Celebs are also humans. They too get sick sometimes. When most of the people are stricken with the flu, they can't even get up from their bed. With the chills, body ache, nausea, and congestion we always think to skip the work. But for a woman, work is the biggest priority. She has the courage to manage her health as well as her work side by side.
Yes! I'm talking about Pink, a well known American singer, songwriter, dancer, and an actress. She was caught with flu very badly but at the same time, she had to sing the National Anthem at Super Bowl. It was quite a tough situation for her. But she gave her work a priority over her health.
This 38-year-old fearless knew that she wouldn't sound 100% well during her rendition of the national anthem―although she managed to give a stunning performance last night. She rocked the night. Even she ended up sounding amazing!
As the pop superstar began to sing, the camera captured her spitting something out. At that moment that normal thing became the hot topic for the people. It got viral on social media. Later Pink revealed she was removing a throat lozenge as she was suffering from bad flu.
She also bit back at people who criticized her for spitting out what appeared to be gum during her performance.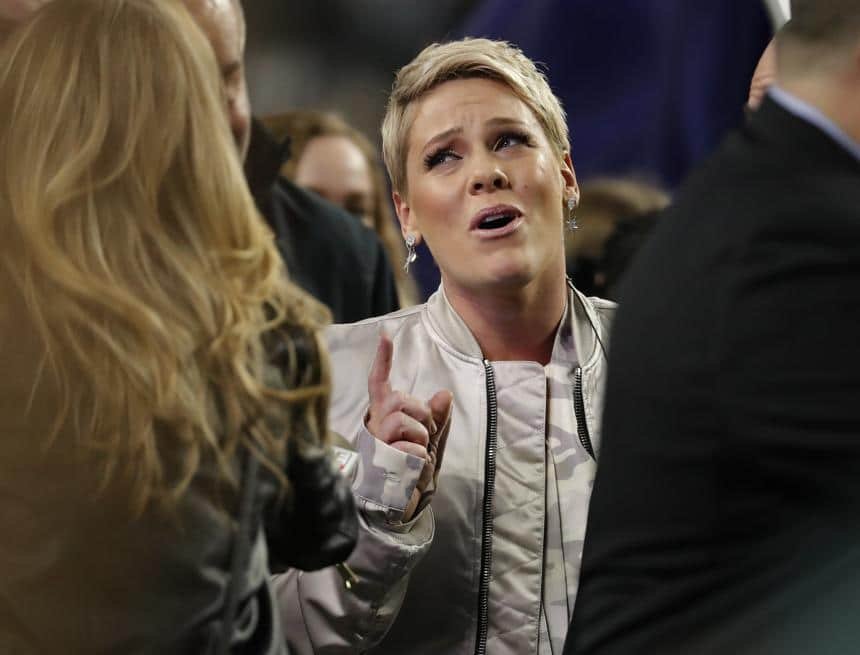 Unfortunately, there were still some people who had a lot of time to do such useless things and started trolling her. One person tweeted, "If I've said it once, I've said it 1000 times. Pink sucks and if you like her singing you're dumb."
Pink responded, "Yeah but at least I suck while singing our country's National Anthem, and you just suck by yourself on a dirty couch."
As her performance got over her 6-year-old daughter, Willow ran towards her.
"Great!" Willow said when asked how her mommy sounded.
In her favor, Pink's husband, Carey Hart, praised his Queen online: "The roller coaster that she went through this last week with getting sick and losing her voice would have broken an ordinary person," Carey wrote. "She laced up her boots, got through a 90-minute set Friday night, and f*****g killed the super bowl today. Oh and sang live by the way. She is the hardest working in show business and I couldn't be more proud of her. You f*****g rule, baby."
I feel some people are so free and so retarded that they waste their time on doing such silly things. I loved Pink's performance and felt like applauding for her courage and patience. She proved to be a woman with self-respect, strength, and dignity.
Enjoyed the article? Check out another interesting story below ▼
---

Share this story with your friends and family!
---