A wedding is one of the most memorable events in a person's life. While it may be one of the happiest moments, it can also be one of the priciest and most stressful ones.
According to the Real Weddings Study conducted by The Knot in 2017, Americans spend over $33,000 on their weddings on average.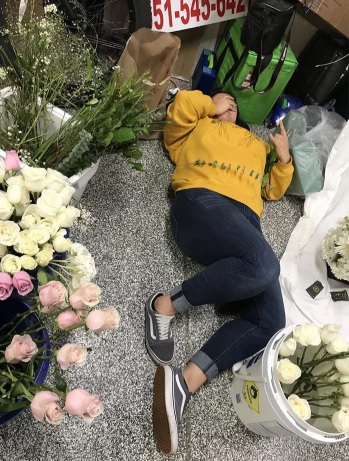 To cope with the high prices, some grooms and brides even resort to stealing, extortion, and asking for free work in an attempt to hold the 'perfect' wedding without hurting their wallet.
In a recent Imgur post, one upset florist spoke out and shared a whole conversation with one of her potential clients who asked her to work for free because flowers were "the last thing she needed."
Scroll down and take a look at the conversation between the florist and the bride from hell.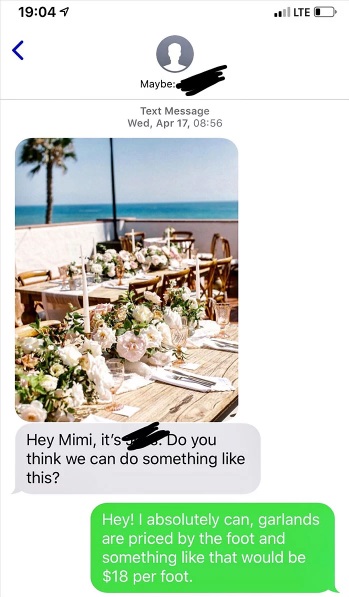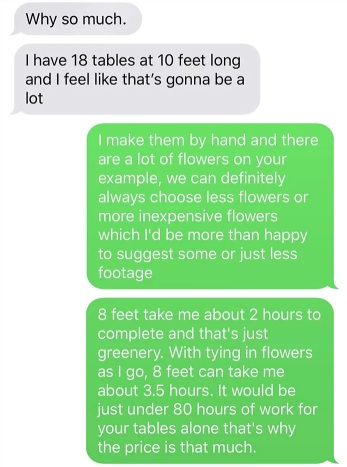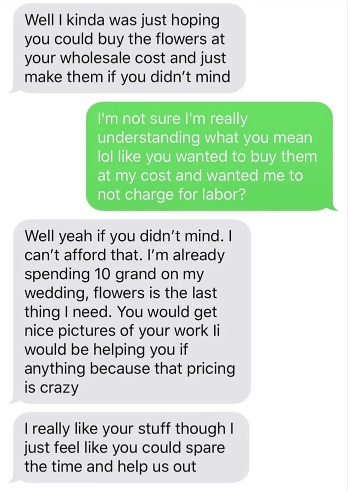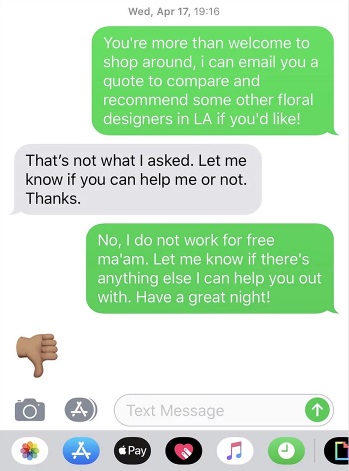 After Mimi the florist shared the conversation on Imgur, people soon jumped to her aid and defended her for standing her ground.
"People who think their 'exposure' equates money are the worst types of people. It's a real slap in the face," one person wrote.
"As a photographer, I get this a lot and the old favorite 'but you'll get lots of exposure' people are cheapskate bastards," an angry photographer added.
"Spends $10k on everything else, wants the flowers at cost and free labor. Sounds about right," another one said.
One person also suggested how to deal with tightwads saying: "Never explain why your pricing is the way it is. They'll always try to find fault or a way around it. The price is the price."
What are your thoughts on the bride's request and the florist's response? Let us know in the comments and don't forget to SHARE this post with your friends and family!
Recommended Video!
"Waitress Slammed A Customer And Called The Police After He Grabbed Her Backside"