Old age usually creeps around us like a thief in the night. We can all be sure that it will catch up with us at some point in time.  Talking about old age, am pretty sure that each one of us has at least an elder at home whether it is our own parents, grandparents or even relatives.
Elderly people require a lot of care and attention. This is why loved ones and friends are usually concerned about their well-being as well as safety. People are even more concerned about them during colder months because they are extremely vulnerable to injury due to freezing rain, snowy streets, and unexpected ice patches.
This may be the reason a video showing a senior citizen in trouble has gone viral across different social media platforms. The video shows the nightmare scenario that we are all scared of when it comes to the elderly.
This video is also a demonstration of how selfless and kind some people can be. Amazingly, the people in the video did not know each other, and after watching the video, you will all wish that a brave guardian angel would appear if our own elderly relative were in such a difficult situation.
Shi lei who is 54, was riding out his bicycle in Baoding recently when he came across an elderly 70-year-old woman who had fallen into a frozen river. Imagine how the woman must have been feeling. For those of you who are not aware, Baoding is a city that is located in north China's Hebei province.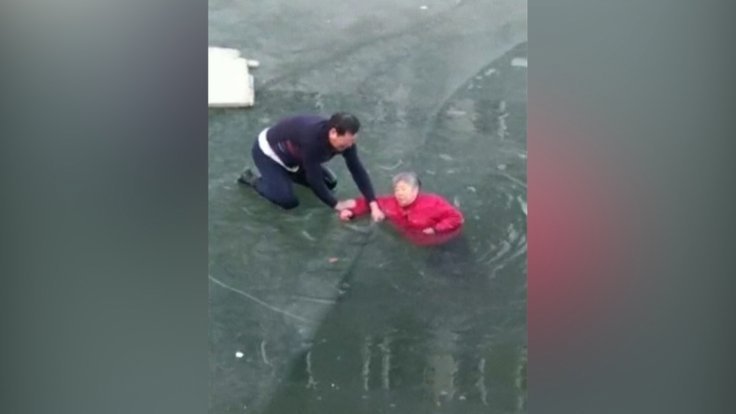 We are not quite sure how the woman ended up in the frozen river, but it is very clear about how She Lei quick thinking may have just saved the woman's life.
While the other citizens stood on a nearby bridge and called the police while watching the woman helplessly She Lei could not take it knowing that the old woman was freezing in the river below and he decided to do what none of the other citizens had done, She Lei crawled into the ice without hesitation because the elderly woman appeared to be disoriented, weak and totally unable to help herself.
This is not a surprise because according to an article by Scientific America in 2009, hypothermia usually takes hold within a minute in cold water. They said that the symptoms might include weak pulse, low blood pressure, a combination of clumsiness and confusion, stupor and slurred speech.
The video shows She Lei trying to save the elderly woman while sitting on a thin ice ledge and he was soaking wet. He tries to get a hold of the woman's red coat sleeve as she bobs helplessly. She Lei tries to break the layers of ice using his own bare hands.
A fellow onlooker joins the rescue mission, and he stands on what seems to be a scrap of cardboard or plywood while holding She Lei by the waist to ensure that he does not slip into the river himself. Soon after, the thin layers of ice break spilling both men into the freezing water up to the waist level.
She Lei physically lifts the woman, and his companion pulls her to safety while both men are coughing and sputtering. The onlookers ended the old woman's misery by immediately covering her in warm bedding and cotton-padded coats.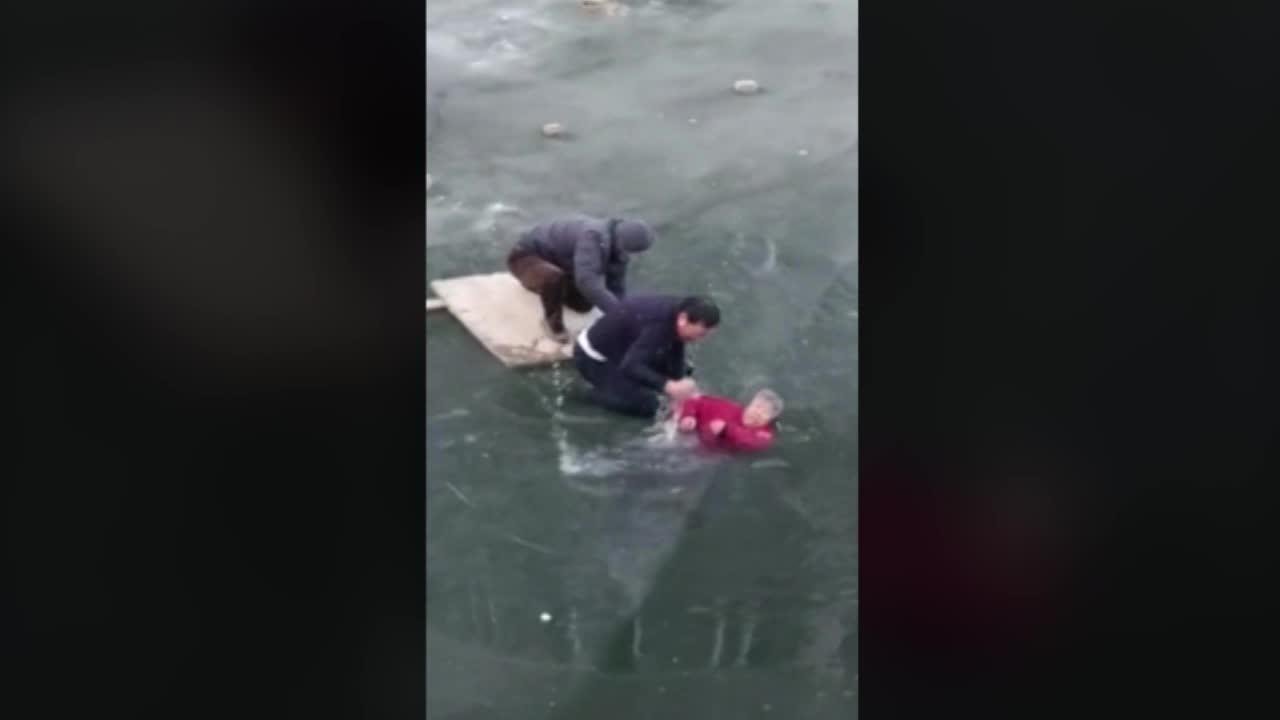 Once the ordeal was over, She Lei took the initiative and took the old woman back to her home to the satisfaction of the concerned citizens and grateful relatives.
She Lei talked to some media outlets and told them that once he got home, he just took a hot shower and drunk a bowl of soothing ginger water and off he went to his day job. He was really the old woman's guardian angel sent from above to save her life.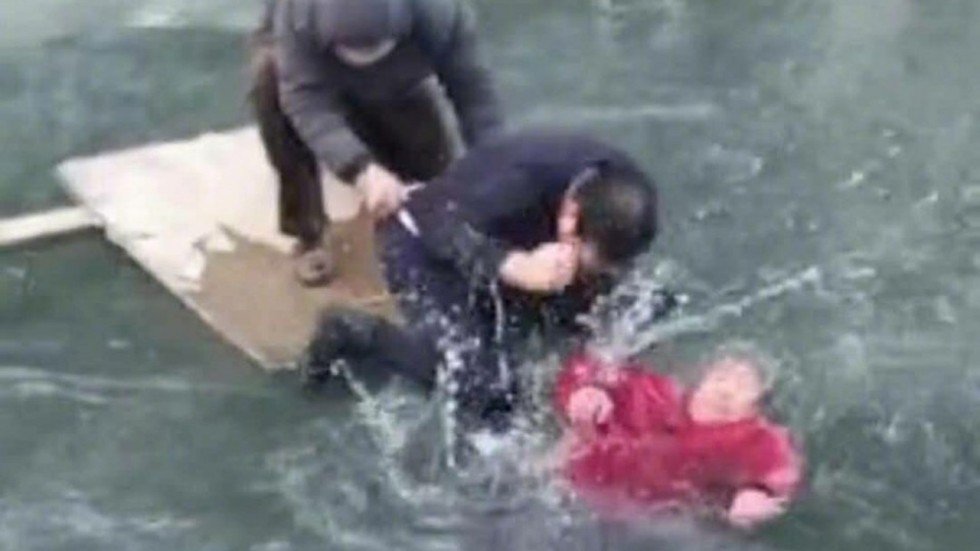 Watching the video, we cannot help but breathe that sigh of relief and appreciate the effort and sacrifice that the two put into saving the woman. This goes on to show that the little acts of kindness do really matter and they can go a long way even saving someone's life just like She Lei.
We are grateful that he was quick to think because there is no telling what would have happened to the woman had she stayed in the freezing river for a little bit longer.We are happy that people like She Lei who can help out regardless of the situation still exist in the world.

If you loved this inspiring story, we would love to hear from you :)
Follow

@smalljoys_of_life
Enjoyed the article? Check out another interesting story below ▼
---

Share this story with your friends and family!
---