Charna Rowley, 22, wants to become a YouTube star so bad that she eats anything that her fans request of her online, including 5,000-calorie meals.
Whether it's a Chinese takeout meal meant for four people or extra-large pizzas with sides, Charna is willing to take them on all for the sake of her channel.
Meet Charna in the video below.
Video credit: Rumble
She quit her full-time admin job less than a year ago in order to focus on her twice-weekly eating challenges. Charna insists that going to the gym four times a week is enough to counter-balance the amount of food she's eating although the fact that she weighs over 200 pounds seems to say otherwise.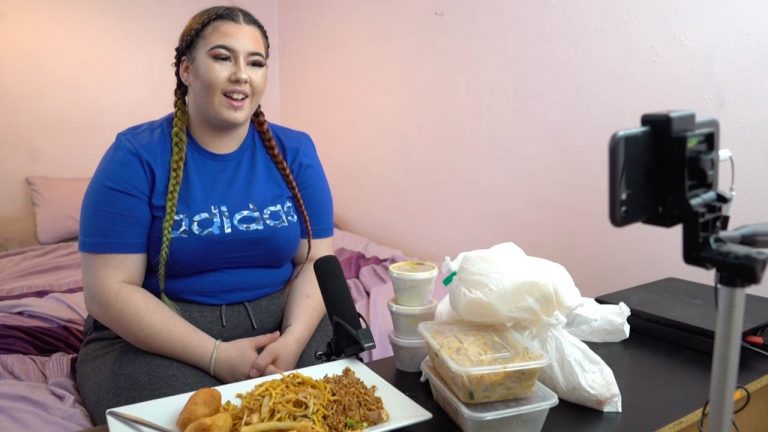 Charna said: "I have over 40k viewers, with about 5K subscribed over all platforms and they can request all sorts.
"One of my first videos was a Pizza Hut one, where I ate two large pizzas and two sides, meaning the calories were straight away in the thousands.
"I've had requests for the UK typical takeaways, so that's why I've done videos buying from McDonald's, Greggs and Pizza Hut.
"I'll make a minimum of two full-length videos, lasting just under half an hour each, a week."
Her most popular video involves a Chinese takeout meal, with 46k views and climbing.
She has set up Snapchat to receive requests, started eating branded takeout meals, and set up smaller snippets to get more reach using other online mediums.
Charna believes she can recoup her costs as her channel becomes more popular. She is hoping to become the UK's first Mukbang star
Charna added: "When I visit the gym, I mainly go for the cardio and I go at least three times a week.
"But my ultimate aim is to try and do the 10,000 calories challenge.
"I've just got to show how confident I am – I might get something stuck in my tooth or around my mouth but people love how funny I am.
"I have the negative ones, telling me how fat I am, how I could be really pretty if I try not to eat so much but most of the time I just don't answer.
"I enjoy it and it gives me confidence – and now that I can monetize my channel and really respond to people's requests, it can become a full-time career move."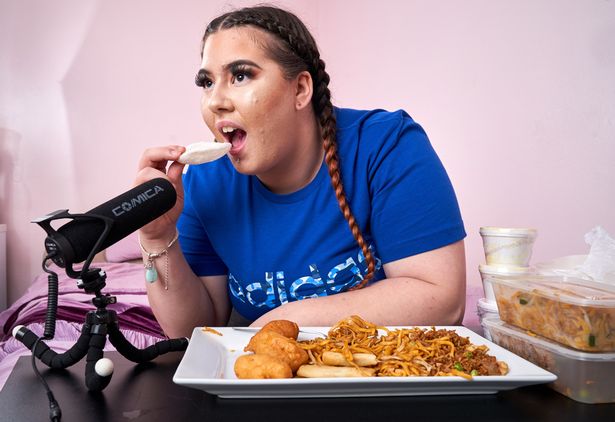 A 2010 craze in South Korea that went global served as the template for Charna's eating challenge. Back then, people filmed themselves eating while they interacted with their audience. In Charna's case, she also employs ASMR (autonomous sensory meridian response), where you use soft sounds to trigger pleasant feelings.
She has managed to amass numerous followers, most of whom send her requests for what she should eat next. She has even started to earn from her bizarre challenge. She supplements her income by working as a part-time warehouse assistant so that she can spend more time on her online channel.
Charna added: "I've now done giveaways and really started getting people involved with Mukbang.
"My mom Marsh, 45, works for Royal Mail, and she initially saw it as a hobby, but once she saw my passion, and the following I was managing to get, she changed her mind.
"She might have once seen it as a backup plan but now she thinks I should go for it, whilst I'm young and I have the opportunity.
"It's all about finding balance, and if the worst I get called is chubby – I don't care enough about the trolls to stop doing it."
Recommended Video For You!
"Plus-size Pole Dancer Is Beating Obesity One Spin At A Time"