Forgetting their value system, some people might get extremely rude at times. Homeless people are the ones who receive all kind of rudeness from people because they do not have a home to live in. Life is already very rude to them, as they do not have the most basic thing in life. To make fun of such people doesn't make one a cool person, but it makes one a disgrace on humanity.
2 employees of Dunkin Donuts were fired from their job for the same reason. Jeremy Youngs Dufresne, a 25 years old homeless man was in the store to charge his phone so that he can talk to his mother. His phone was charging and he decided to put his head down for some time when the two rude misbehaved employees attacked him. They threw a jug full of water on him to kick him out of the place.
Scroll down to watch the video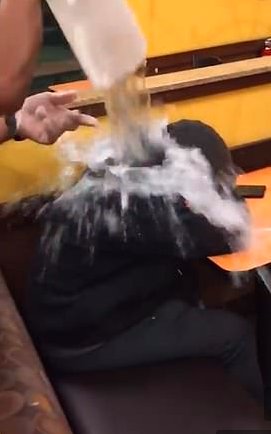 The prank was recorded on a camera by the second employee who was laughing at the incident. The prank video was shared on Facebook after a few minutes.
This is how they dug a pit for themselves. It said that God sees everything. And here, the organization saw the video.
Watch the video below:
Video credit: Samuel Breazeale/Facebook
The company that owned the location said that the video was disturbing and it was against the value of the organization. To help Dufresne, a GoFundMe page was made and it collected $7,600. The company fired the two employees and is considering on filing harassment case against the two.
Dufresne said that it was not him, the abuser might have some of his own trouble, and he just took it out.
The video starts with the man holding a huge jar of water and ranting. He was asking Dufresne if he wants to sleep at first and then dumped all the water on him. The employee even warns Dufresne that he would call the cops. He was ranting that how many times would he tell Dufresne not to come in here and sleep on the table.
Well whatever the reason was, this is not the right way to treat a fellow human.
Share this post with your family and friends.
Recommended Video!
"Homeless Man Shivering On Subway, Then One Stranger Comes Over And Gives Him His Clothes"
If you liked this post, we would love to hear from you:)
Enjoyed the article? Check out another interesting story below ▼
---

Share this story with your friends and family!
---