LIKE OUR PAGE

Things don't always go the way you want, in fact, it is more often the case than not. Everybody has limitations and they are bound to live by them. You can't control everything; so many times you will find yourself in situations where you feel helpless because you are forced to do something that you never thought of.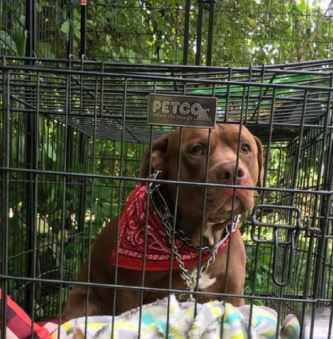 One of the heartbreaking scenarios is when you are forced to let go of a loved one, and you can do nothing about it. It cannot get any worse than that, but again, everything doesn't go our way and we need to come to terms with reality in such situations in order to make the most out of them.
Here is how Fatty McFat's owner tried to watch out for him, when she accepted that it will be in his best interest to part ways from her. This story shows that people are willing to go to any length for the sake of love.
The owner of Fatty McFat was diagnosed with a disease and became homeless, although she didn't want to leave Fatty but her sincerity for his wellbeing compelled her to think otherwise.
She knew that Fatty has to find a new better home, and she tried everything in her power to find one for him, but no one seemed to care. It only added to her desperation.
Fatty's age and his history of aggressive behavior didn't play into his favor whenever somebody considered his adoption, therefore his profile also made it difficult to find him a loving home.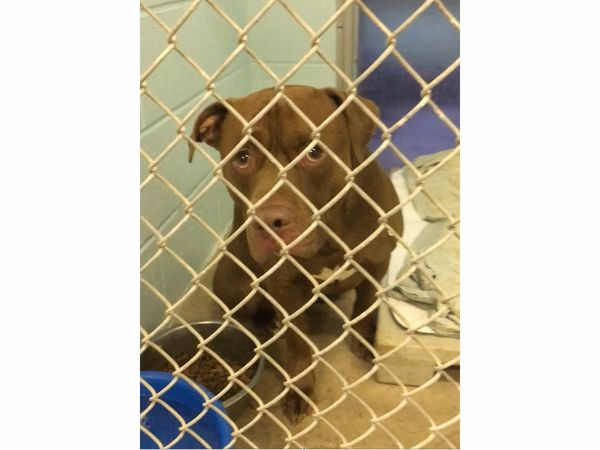 At this point, she had run out of ideas and wasn't sure about what to do next, so out of desperation, she tried something out of the box. She left Fatty in a crate outside an animal hospital along with a note attached to the crate. It was the only option that appeared safe to her for Fatty.
The letter says, "My name is Fatty McFat. I am aggressive only because I am scared. My owner loves me very much, I am their life! My human went homeless and found out they have a disease and cannot care for me. Please don't judge them. They tried to regime me on many documented attempts, no one cared! Attempted the vet, they did not care. Called police and dog warden, did not care. I know my human loves me because they are the only one who gave every attempt to save me, love me and pamper me. It is not fair for me to live in a car which I have been for 2 months and my human cries every day that they are sorry and love me. I am very, very, overly protective of my human and will bite anyone who comes near them or I feel is a threat. My human went homeless due to my biting. All my human wants is for me to have a chance, be treated with care, dignity and love no matter the outcome. My human is heartbroken and very sad it has come to this. No one would help. -Fat McFat"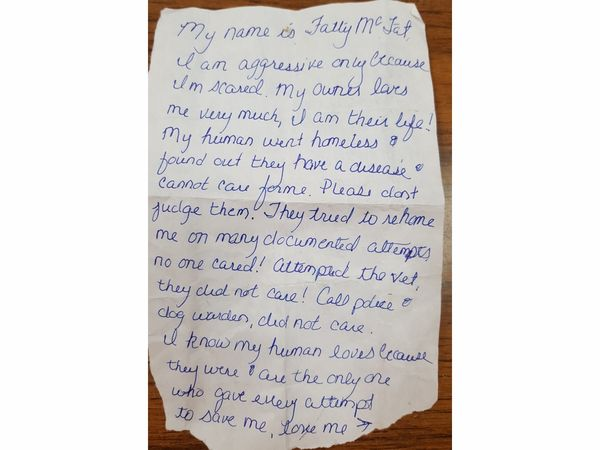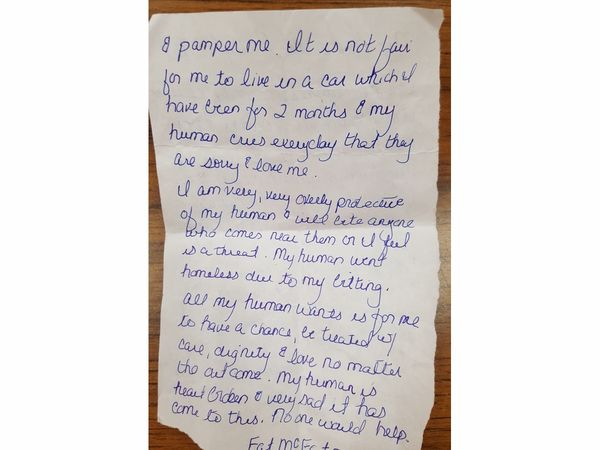 The animal hospital was carried away with the letter, and it turned out to be very effective in catching their attention. They took the matter seriously by taking Fatty under their wing to ensure that he would be alright.
The first step was to inspect him for any infections or injuries. Once all the necessary precautions were taken and they were sure that Fatty is in good health, the next step was to find a loving and caring family for him.
But Fatty was no normal dog, he was old, aggressive and had been abandoned. They said the case of an animal with this profile is much different than other cases, hence they were not very hopeful about his adoption.
God tests His creations by putting them in difficult situations, but He also has the power to bring them out of it. Just about when everyone was about to lose hope, things took a turn for the better. The Simon Foundation stepped in to help the dog and its owner. They were moved by the note left by Fatty's owner and knew there has to be something special about this dog for someone to write such a caring note.
On the same side, they were impressed by the selfless nature of the owner, who even after going through the worst period of her life still took Fatty's safety to be her top concern.
Special dog calls for special treatment, so right now along with perfect care Fatty is also undergoing a behavioral management course. This is not only to train him but also to create ease for his owner in controlling him. Once she is in a better position, she can have Fatty back under her care.
The foundation is doing this free of charge, the sole purpose being to help out someone in need. They are playing their part, and we urge you to show your support for them by donating on their website:
http://www.thesimonfoundation.org/
Do you think the step taken by the foundation to give this dog a chance is the right one? Share your opinions below, and don't forget to LIKE US on Facebook.
LIKE OUR PAGE