Learning self-defense is a good choice. You never know what happens in life. You might need these skills in case you ever live near a shabby locality or where there is a high probability of getting mugged.
There are certain simple moves which you can learn easily to protect yourselves. As long as you have your wit intact, do not panic when someone attacks you from behind. Of course, you could protect yourself in the first place by being distant from such situations.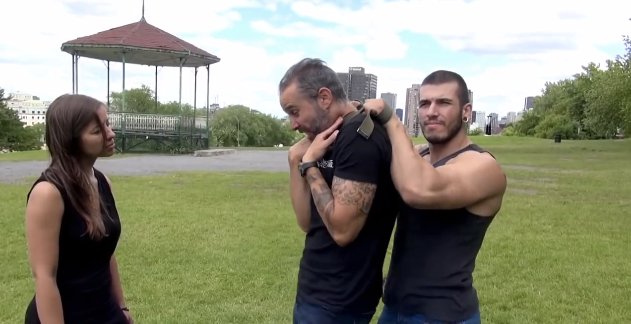 Living in a high-class locality, roaming during the days instead of nights but when your fate turns against you, there's hardly anything you can do about it. It is better to stay prepared for anything uncertain that happens in life.
A video has been released that teaches people how to defend themselves. There are plenty of self-defense classes everywhere, but not everyone has the time to join them. But these moves in the video will train you how to defend yourself.
If you are walking and an attacker comes from behind and puts the belt around your neck, your natural instinct is to get away from it, and you strive hard to do that. But you are choking yourself even more if you make an effort to get the attacker away.
You have only a few seconds to react before the oxygen supply diminishes and you pass out. Your best possible chance of getting out of this situation is turning around as fast as possible and using your fingers to attack his eyes or attacking his face.
The defense video involves a girl demonstrating how to overpower an attacker who is almost twice the size of her. She is wearing heels so she can't really run away. The only choice she has is to defend herself.
This is an important lesson for many of us.
"Recommended Video – Neighbor's Dog Attacks Little Boy, Crying Mom Fears She'll Lose Her Son"

Don't forget to ▼LIKE US▼ for more inspirational stories!
Enjoyed the article? Check out another interesting story below ▼
---

Share this story with your friends and family!
---