A best friend is the best gift in life. But there is nothing sweeter than having lovely sisters. Sisters are more like BFFs. You can share any secrets and even your clothes with your sisters. Even when the world seems all against you, your sister is always there for you to fall back on.
You might be fighting like cats and dogs or acting like best friends, but the sister-sister relationship is never boring.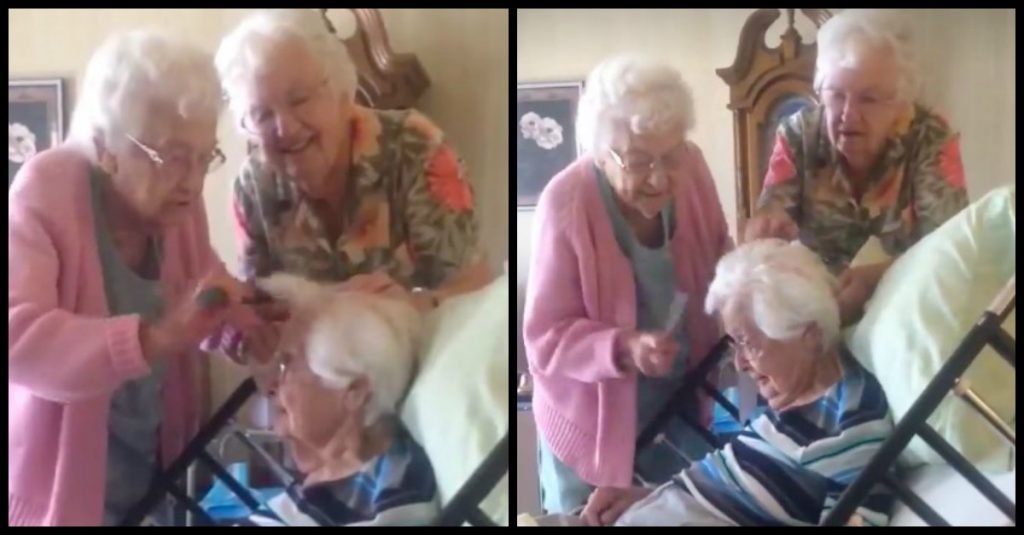 Meet these trio sisters in their 90s who felt the exact same way. These two cuties are in their 90s who came together to pamper their 97-year-old sister, brushing her hair as she remained in hospice care. Isn't it cute?
97 old-year-old women being pampered by her sisters. This sisters bond is just amazing.
Watch out this heart touching video showing how these trio enjoying each other's company happily. I'm damn sure this video will give you Awwwwww…… kinda feeling.
The granddaughter of a 97-year-old recently filmed her grandma's sisters combing her elder sister's hair with utmost love.
Her grandma as per her wish had hospice in her own home.
"My 97-year-old grandma is being loved by her sisters, all in their 90s. When my sisters are old, I will brush their hair and make sure they look pretty, until the very end. My grandma got her wish to have hospice in her own home." the Granddaughter said.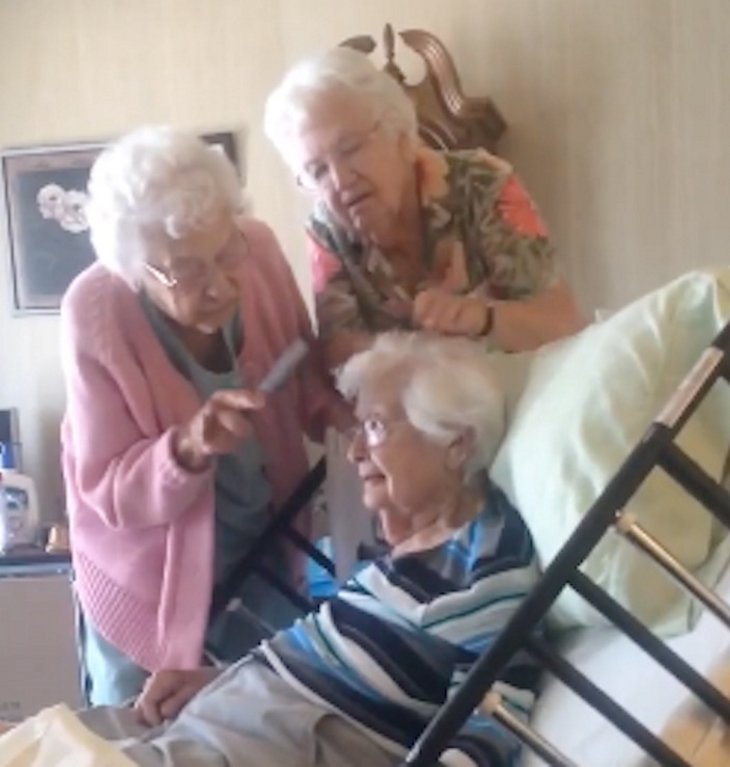 97-old-grandma was lying on a bed and her cute sisters gently lift her head off her pillow and comb her bangs. The two women make sure to brush their sister's bangs just the way she likes them.
"Let's get her bangs like she wears them," one of the sisters' says. The other added: "Now, let me get the back a little bit."
On this, 97 old grandma says "One sister taking care of another, huh?"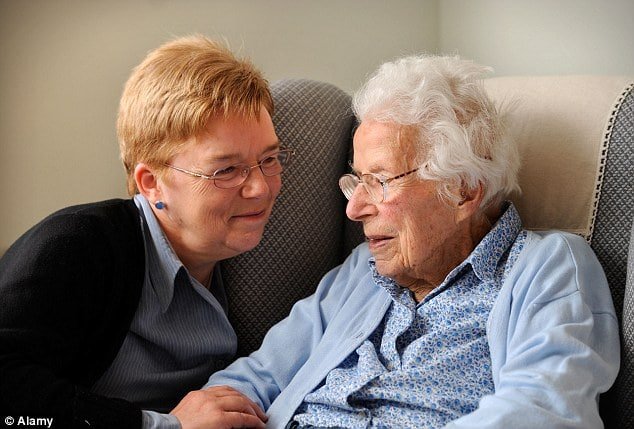 How lovable is this? I really adore their love. These sisters are trying to get the perfect roll on her bangs. As they knew she loves it. In the video, you will see both sisters are giving their best to make their sister looks pretty. This video just melted my heart. This video shows that these sisters love to remain as it is even in their 90's. You should definitely watch out this video if you are missing your sister.
So, when was the last time you met your sister and showed her some love? After reading this sisterly love story, you will surely start talking to your sister if you haven't adored her in a while.
If you liked this trio sister's love story, then Share it with your sisters and make your #SisterBond stronger.
Enjoyed the article? Check out another interesting story below ▼
---

Share this story with your friends and family!
---