Jojo is a California Corgi with loads of followers on Instagram who enjoys a day on the waves on his surfboard. A Corgi who uses his powers of surfing and snowboarding to raise attention and money for animals in need.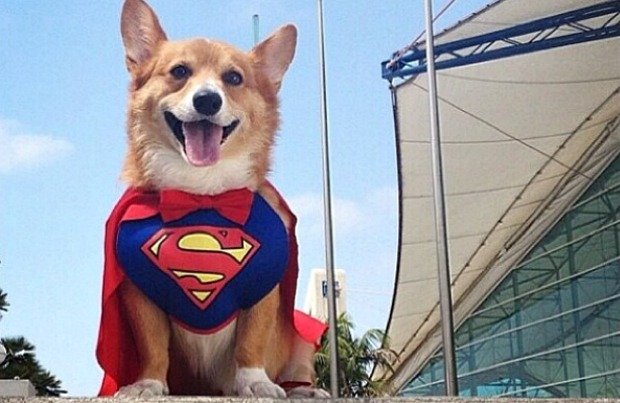 Like many superheroes, Jojo has an incredibly original story that could have ended in tragedy. Two years ago, Jojo and his owner, Josephine Hearn, were viciously attacked by two bigger dogs in the apartment complex where they lived at the time. Josephine's husband Ryan was deployed overseas, and the couple had planned to have a small wedding with friends and family when he returned. But Jojo's medical needs came first.
"I needed to use our wedding money for that surgery or else they wouldn't work on him," says Hearn. "We sacrifice for what's important to us, and for me, it was Jojo's life. I wouldn't know what to do without him."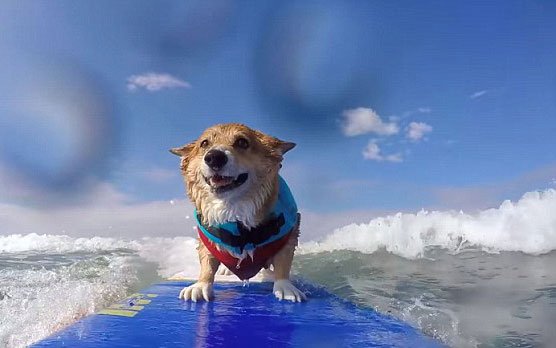 The Daily Mail says that Jojo, along with his GoPro, rides the waves capturing some cute video of the wet and wild herding dog. Jojo is now a social media star with 75k followers on Instagram. Josephine Hearn was walking to the park with Jojo four years ago, and they were both attacked by two unleashed dogs.
Jojo did water therapy as his post-surgery rehab, and since the Hearns were already outdoorsy people who enjoyed surfing and swimming at the beach, it seemed like a perfect fit to bring Jojo along for the ride. It was a happy accident when they found they could rest their pooch on a surfboard without a problem, and not only that, Jojo liked it.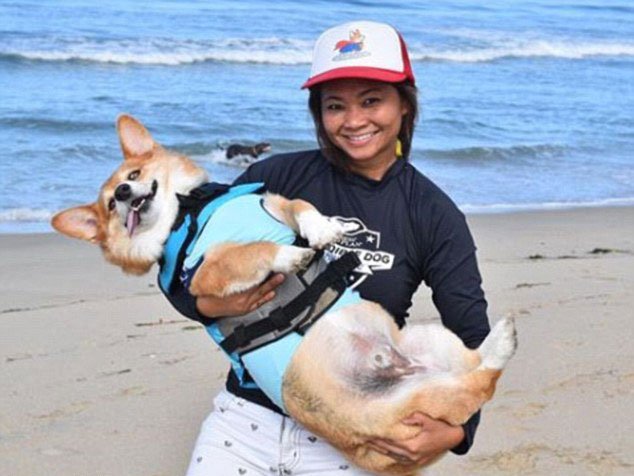 "When we put the board down, he would go to it and be ready to surf or snowboard," says Hearn. "I love it because we get to bond as a family, it's super fun and stress-free.
Photos of the Corgi surfing, snowboarding and dressing up in all kinds of costumes helped rocket the pup to internet stardom.
Watch Jojo riding the waves! 
Video Credit:  ViralHog
The Hearns catch Jojo hanging ten or shredding snow on their iPhones and a GoPro3. You can find Jojo riding the waves at Huntington Beach and Del Mar, Calif., and Oahu, Hawaii, with plans to hit international waters in the future.
Together, Jojo and Hearn use their online influence to help animal shelters and services by participating in events and fundraising activities. "We are all about helping dogs and our friends," says Hearn.
Recommended Video!
"Hero Dog Saves His Friend From Drowning In A Family Pool"
Enjoyed the article? Check out another interesting story below ▼
---

Share this story with your friends and family!
---