Watch the video below to find out more about Tazer.
Video credit: Grace Griffaton
Putting down a beloved and faithful pet is never easy even if you know it's the more merciful option. And when it comes to K9 dogs, they can form deep bonds not only with their handlers but the whole police department as well.
That was certainly the case for a police department in Pennsylvania, USA. Tazer was a K9 dog that had been faithfully serving on the Newberry Township Police for eight-and-a-half years. In the course of his service, he received Two Medals of Valor, a Meritorious Service Medal, and four Chief Commendations.
But one day, Tazer's handler, Sergeant Chris Martinez, noticed something off with the German Shepherd during a recent shift and took him to the vet. Unfortunately, it wasn't a minor thing at all. Tazer was suffering from a broken leg, bone cancer in both hind legs, and had two detached retinas, which meant he was blind.
The vet was actually astonished that Tazer had been able to go on duty at all.
Speaking to the York Daily Record, he said: "He was not limping, he was not showing any indication he had bone cancer, and bone cancer hurts. But Tazer, true to his spirit, just continued to be Tazer."
Even so, euthanasia was still the more merciful option before Tazer's condition deteriorated further.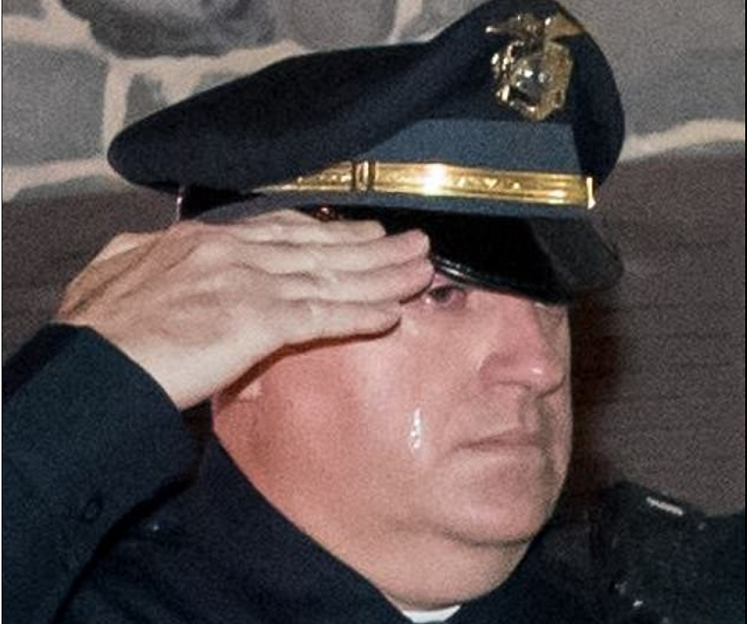 However, the Newberry Township Police officers weren't going to let Tazer go without the send-off that he deserved.
Around 30 cars lined up outside Hartman's Valley Green Veterinary Hospital with around 70 officers in attendance, according to the Associated Press.
As Sergeant Martinez walked Tazer into the vet's office one final time, the officers saluted and one couldn't hold back tears at the emotional scene.
Dr. Lewis Hartman, the vet, also got emotional as he recalled the send-off.
He said: "The overwhelming respect that all these police officers from all these different departments showed… It was very much a traditional police ceremony.
"The fact that Tazer walked right alongside Officer Martinez, through the corridor into the exam room… It was incredible the level of Tazer's strength, stamina, spirit.
"For him to walk when he had bone cancer in both rear legs, that was incredible."
Before his final rest, Tazer was given his favorite meal which was comprised of "chicken treats." The police radio also carried his end-of-watch announcement for retiring officers.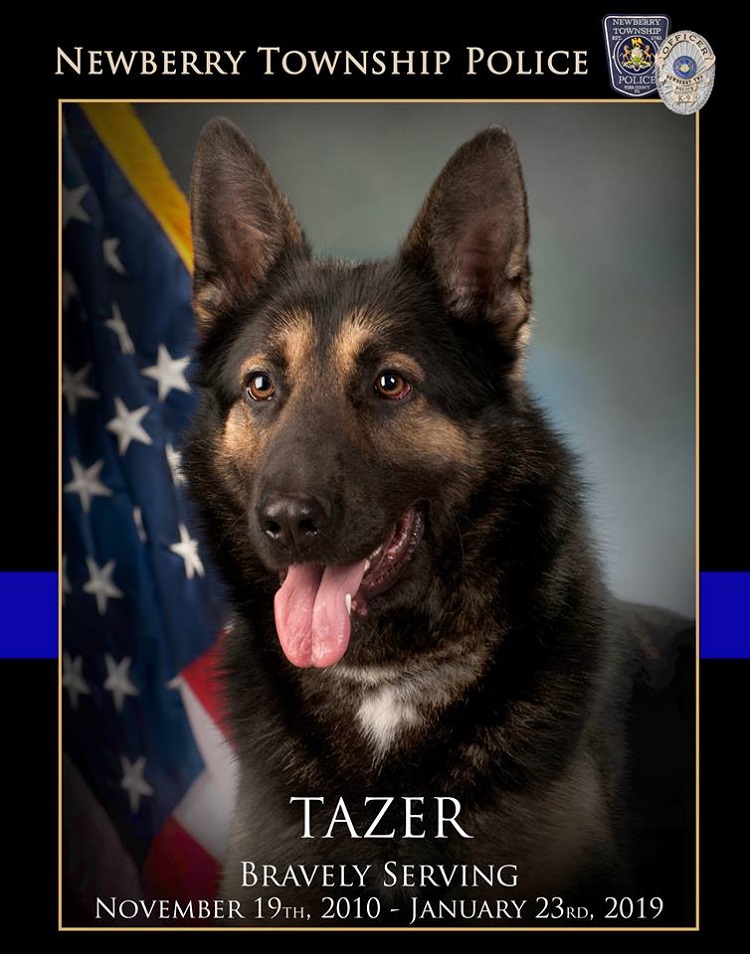 The Newberry Township Police also paid tribute to Tazer on their Facebook page, writing: "It is with heavy and sad hearts that we announce the passing of our beloved K9 Officer Tazer.
"K9 Tazer's health recently deteriorated to the point that he had to be laid to rest today.
"Throughout his eight-and-a-half year career with his handler, Sgt. Christopher Martinez, K9 Tazer successfully specialized in patrol, narcotics detection, and tracking. K9 Tazer assisted numerous agencies across central PA and was the recipient of two Medals of Valor, a Meritorious Service Medal, and four Chief Commendations.
"K9 Tazer was a true warrior to the very end and will be missed by many. We would like to thank K9 Tazer for his dedicated and selfless service to the residents of Newberry Township and the Commonwealth of Pennsylvania.
"Rest in Peace K9 Tazer."
It was a well-deserved send-off for a really good boy.
Recommended Video – "Police Dog 'Saves' The Life Of His Trainer Who Was Faking His Death- Performs CPR Like A Master"

Enjoyed the article? Check out another interesting story below ▼
---

Share this story with your friends and family!
---