LIKE OUR PAGE

A routine workday ended unusually for Deputy Earl Hanners. He is known for his kind and loving heart, and that day presented another test for him to prove his kindness. In his profession, he has rescued abandoned dogs in association with an organization called Hounds in Pounds, in many occasions.
It became impossible for Hanners to turn away a helpless puppy that was damp by its owner by the roadside. He stepped in and made the puppy a member of his family. His love for animals was something beyond him. His conscience could not allow him. Moreover, he had participated in rescuing many dogs disposed of by the roadside, and this one was no different.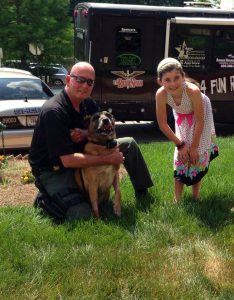 Hanner received a radio call somewhere in mid-June and about 80 degrees in Atlanta. The day was unusual as at the time he received the call; he had been attending to a road accident which involved a car. He assigned another police officer to attend to the new incident that has just cropped up as he was still solving the crash incident. Upon investigation, the officer found a helpless puppy which was about 10-years old in a cardboard box.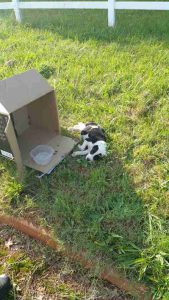 The box was first seen by a motorist who made the call. The motorist thought that it was a lucky day for him, and so went straight to pick the package. He was disappointed to find that the content was just nothing other than a dehydrated puppy which needed his help more than anything else. At least he did the most honorable thing of giving it water then reported to the police.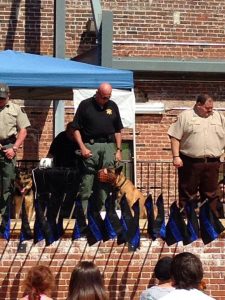 The officer sent by Hanner never hesitated to contact the animal control to take care of the puppy, meanwhile, in his right senses, the officer was questioning from within him for who must have dumped the innocent dog in that manner. Why would you dispose of a puppy that mercilessly after spending some dollars to acquire it? In the meantime, Hanner finalized the accident case, decided to head straight to the new crime scene.
Hanners quickly noticed the adorable face of the puppy which needed their help. He never left anything to chance. He had another plan, a plan to take the puppy with him. So he asked the first officer to cancel the request that he had made to the animal control. He would have it checked by the veterinarian before he could allow it to join the rest of his dogs. He placed the dog, which he has named Bridget, into his patrol car and drove home.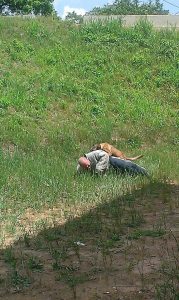 He had experience with the dogs, and it did not take him long to realize that Bridget was hungry and thirsty. When they got home, he gave her bowls of food and plenty of water which she drunk to satisfaction. As usual, an animal needs a rest after a meal and Hanner gave his guest exactly that. Maybe it would help Bridget to feel at home and familiarize with her new environment.

The vet cleared the check on Bridget, but still, Hanner could not let another person adopt her. He fell in love with her and decided to keep the beauty puppy though he didn't allow it to join the rest of the dogs immediately. He isolated her for about a week while observing her health condition and maybe enough time to adjust to her new home.
It was time for Bridget to be introduced to other dogs. She met her new playmates, and they became friends very fast. She fitted into her new home which she must have loved because of the presence of other dogs and occasional visits from Hanners' grandchildren. Perhaps, she was getting love and affection of her lifetime.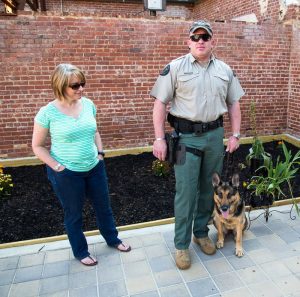 Praise to Hanner for having such a caring heart for pets that granted Bridget another chance to live an honorable life with other dogs. He gave Bridget another home and another family of friends. However, who committed the crime of abandoning Bridget by the roadside hasn't been brought to justice. In my opinion, Bridget is even in a better home than her first place. Whatever made the owner to disown her, only that person can explain it best.

Hanners through big animal control organizations such as the Hounds in Pounds has worked in harmony to rescue many dogs disposed of by the roadside. Their love for animals gave the pets a second time to have their rights to life. People like them deserve an appreciation in the society. They are good examples who live to their expectations.
Share with us in the comment section if you own a pet or not. And if you do, express your love for it. Let us also hear what you can say about those who mercilessly disown their pets.
Don't forget to LIKE US ON FACEBOOK. Your support counts and will be appreciated.
LIKE OUR PAGE