Having tattoos is a great way to express ourselves. Tattoos define our looks for the rest of our lives and fantastically express our personality, memories, ideas, beliefs, and individuality. Sometimes, it is difficult to decide what to get tattooed on our body since the tattoo must be concise, clear and good enough to make us live with it for the rest of our lives.
However, we have compiled the below pics which show women with amazing and meaningful side-chest tattoos. So, if you are wondering what kind of tattoo you should get for yourself, scroll down below to check out some of the most amazing tattoo ideas!
1) Fall Flowers 
This stunning tattoo is a great artwork. The artist has first outlined the flowers and has then given them a splashed-on appearance using various bright colors.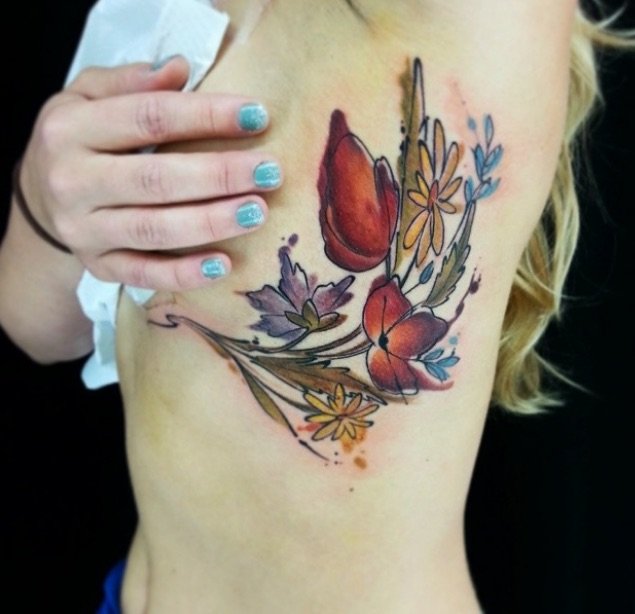 2) The Scribble Heart
In a world full of hate and anger, spreading love should be the aim of every person out there. And this simple heart tattoo, placed on such intimate location on the body, is sure to do that.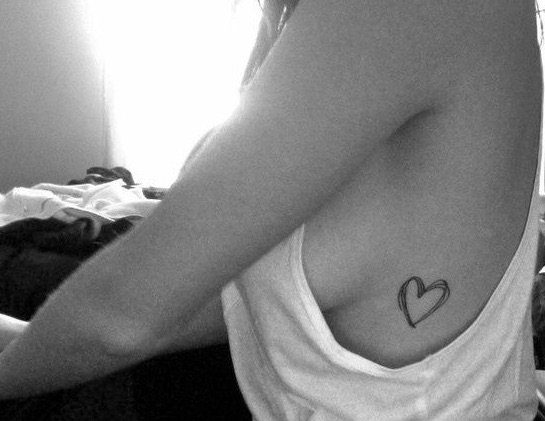 3) Mystery Flower
Simple line art tattoos are one of the best ways to expressing yourself without getting a lot of fuss. And they look extremely beautiful as well!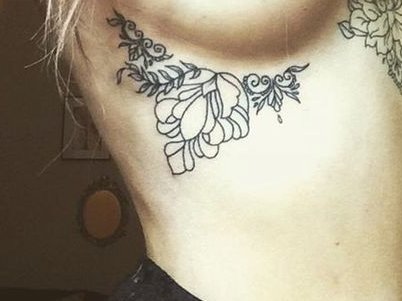 4) Collection of Garden Blooms
Garden flower shows a fun and carefree nature but in this tattoo, the two lower flowers seem to have a symbolic meaning like if they are breaking off the wreath.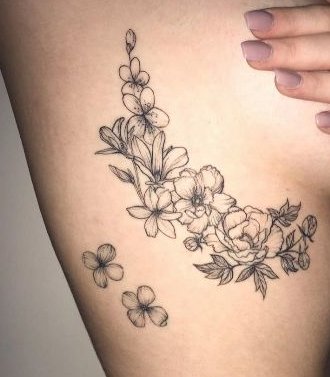 5) The Goddess
This powerful goddess tattoo surrounded by a flowery crescent moon says much about the lady. It is a symbol of power and self-confidence, but above all, it is too damn beautiful.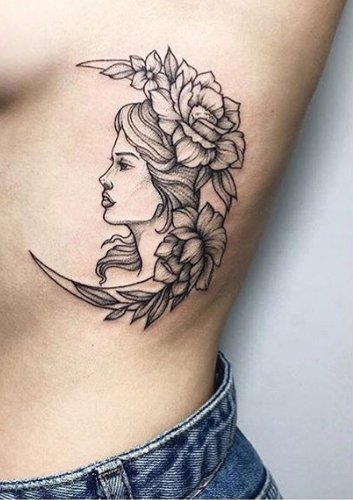 6) Vibrant Flower
This tattoo may just show a simple rose but its vibrant colors are enough to make it stand out. The choice of colors is a display of your inner beauty and says a lot about your personality.

7) Feather in the Wind
Feather tattoos are loved by many people but this lady has added her own unique taste to make the tattoo even more beautiful. Instead of showing a simple feather, this tattoo shows tiny birds which are flying out of the feather's tip.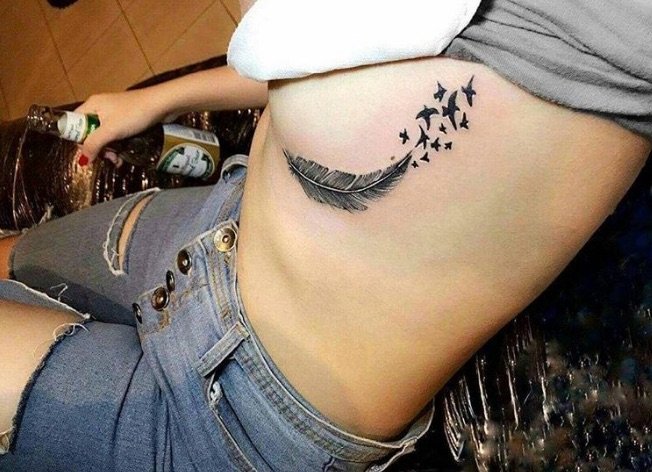 8) Chest-Squid!
Having a Squid tattoo on the side of her chest shows how fun this lady would be. Many people tend to get a Fish or Octopus and Squid is like an underrepresented sea creature in tattoo form. So, well done!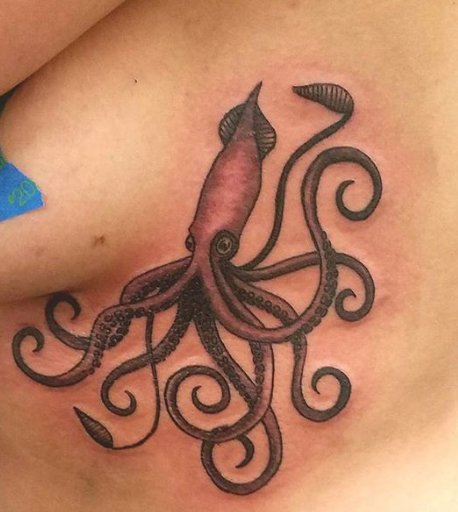 9) Teensy Waves
This is such a great tattoo. Waves are powerful and can have significant effects on our emotions so this tattoo can serve to calm us during stressful times.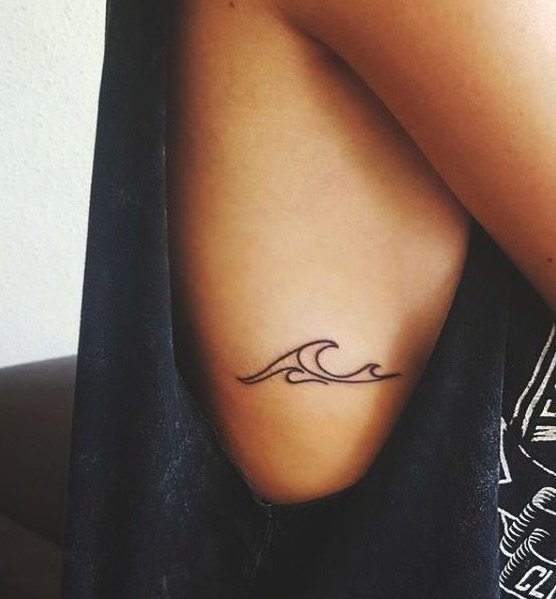 10) Lego Superman
This is one of the best tattoos on this list. The iconic superhero, tattooed in Lego form, is seen here to hold up this lady's… well, you can have a guess. This tattoo is cute and hilarious!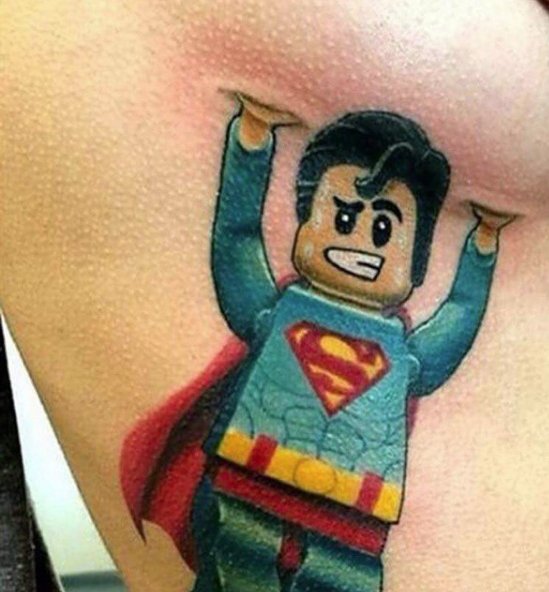 11) Diving Mermaid
This tattoo shows a free-spirited playful mermaid as if she is swimming across the skin of the lady.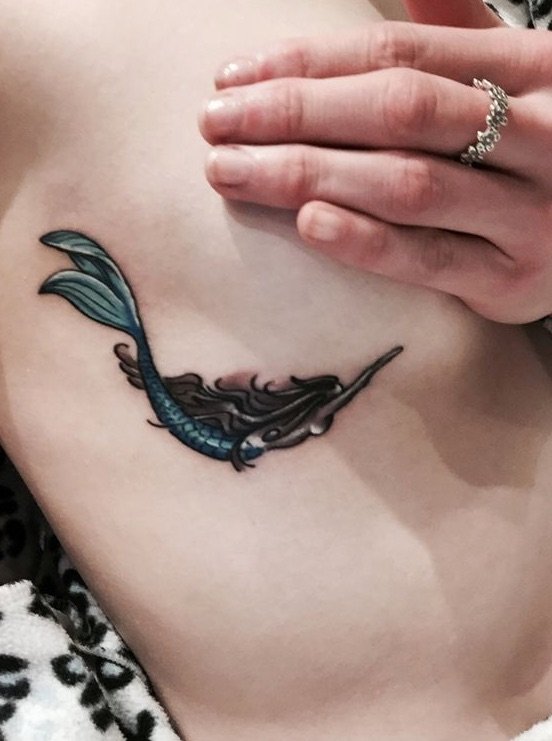 12) Hope
This tattoo is extremely inspirational and gives a message of hope to everyone out there. We don't know exactly what message is conveyed here, but the calligraphy style is undoubtedly beautiful and elegant. Absolutely a good job!

13) Mermaid on the Moon
This mermaid sitting on the moon surrounded by magical beads is definitely longing for something. Maybe it is her long-lost lover, but in any case, the tattoo is brilliantly stunning!

14) Sprouting Flower
These sprouting flowers show a great art detail making it more elegant as compared to the ordinary flower tattoos.

15) The Hummingbird
Hummingbirds are one of the coolest birds on earth. They are the only birds that can fly backward. The lady in the picture definitely wants to show her freedom by branding herself with one cool bird.

16) Love Yourself First
What a message! Definitely, the one everyone needs to hear again and again. This tattoo is an awesome personal reminder of the fact that we can't please everybody out there and the secret to leading a happy life is to "love yourself first."

17) The Bouquet
This black and white cluster of flowers is a wonderful contrast to the beautiful human skin and is definitely making a fantastic impact.

18) Abstract Treble Clef Bloom
This tattoo showing a musical treble clef evolving into a flower is truly a unique one. It must hold some meaning for the lady, but the beauty of this tattoo is something we can all enjoy.

19) Little Wildflowers
These simple yet adorable wildflowers hold a secret message to the lady. Maybe it is related to the resilience of wildflowers in a rough terrain, but in any case, the tattoo is beautiful!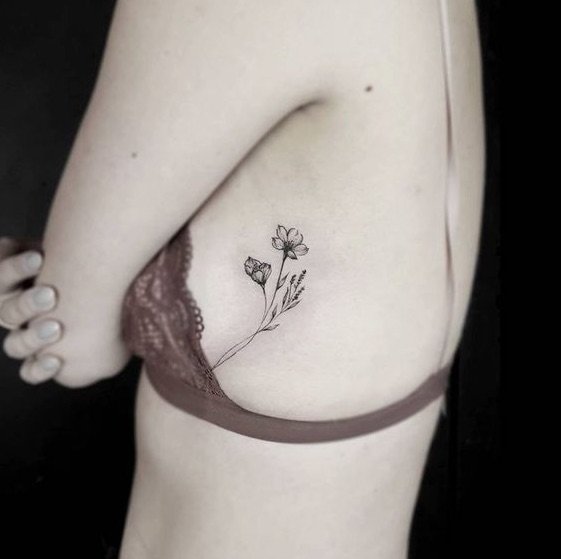 20) Watercolor Dream Catchers
Dream Catchers are hand-woven willow branches in the form of a net which are hung above cradles for protecting the infants. But this tattoo shows they can also have other uses.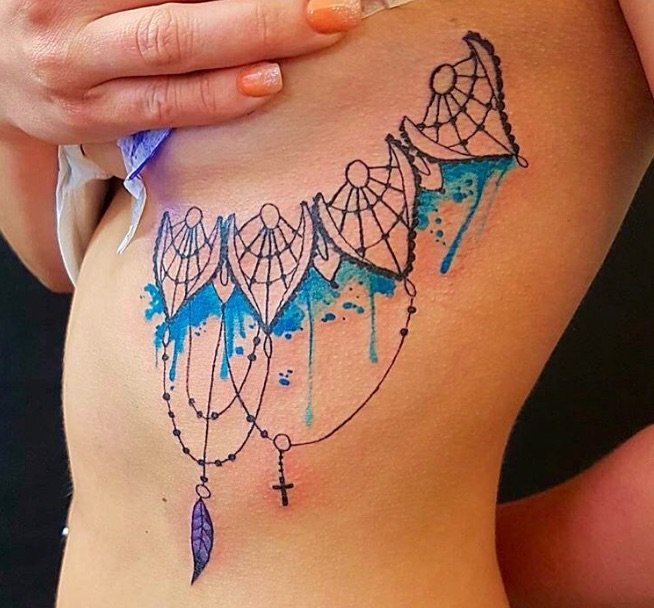 21) Sketched Flowers with Watercolor
These 'sketched' out flowers are placed methodically giving a creative look on how to use flowers within charming shapes.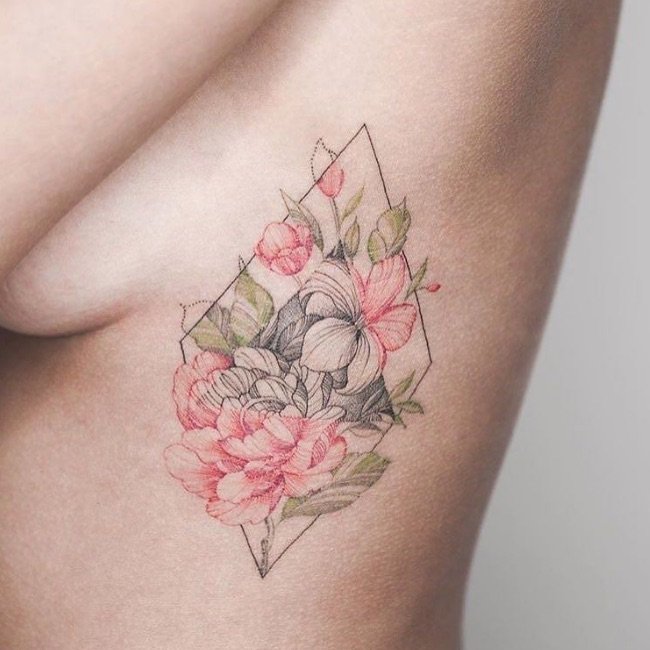 22) Goldfish Outline
This tattoo features a celestial goldfish and its mesmerizing fins seem to dance along the water as the fish swims.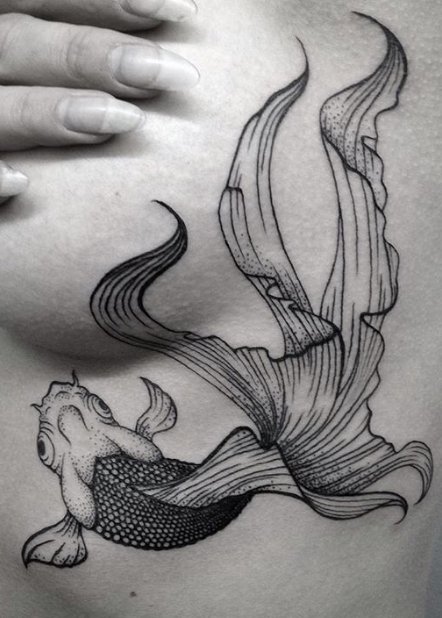 23) Random Shapes
These shapes, though appear random, may hold some meaning in them. Maybe they are Celtic symbols whose meaning is only known by the lady, but in any case, the tattoo is absolutely stunning!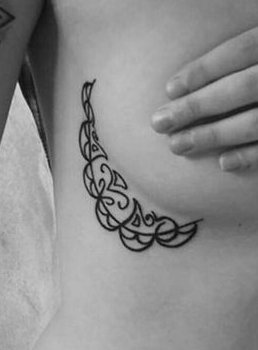 Recommended Video – 12-year-old Tattoo Artist
Enjoyed the article? Check out another interesting story below ▼
---

Share this story with your friends and family!
---