A mother who was protesting in the middle of the town square by breastfeeding a baby was arrested by the police.
The Daily Mail reported on Thursday that a woman who was protesting at St. Peter's Square in Vatican City was arrested by the police.
Many people gathered at St. Peter's Square in Vatican City for Mother's Day celebration.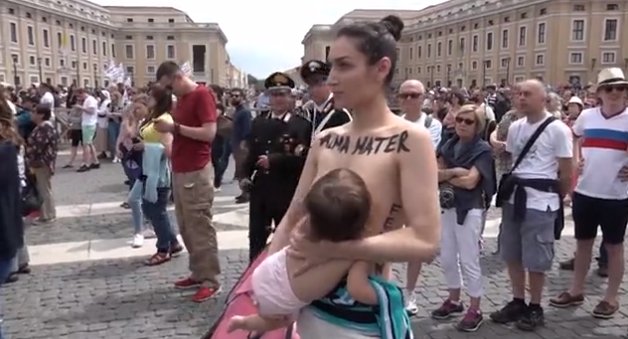 Among the crowd, the person that stood out the most was a woman who was breastfeeding her baby in the middle of the square while having her top off.
The phrase 'alma mater', which means 'nurturing mother', was written on her upper body, including her chest and back.
She was breastfeeding her baby despite the gazes she received.
The woman's protest can be seen in the video below.
The woman's protest caught the attention of many people who were at the square.
However, her protest was immediately stopped by the police who discovered her, and the police dragged her out of the square.
In this process, the woman spoke strongly saying, "Do not touch me and my child."
But soon she was led out of the square by the police.
Afterwards, the woman said, "I did this to show that mothers have the right to breastfeed anytime and anywhere they want."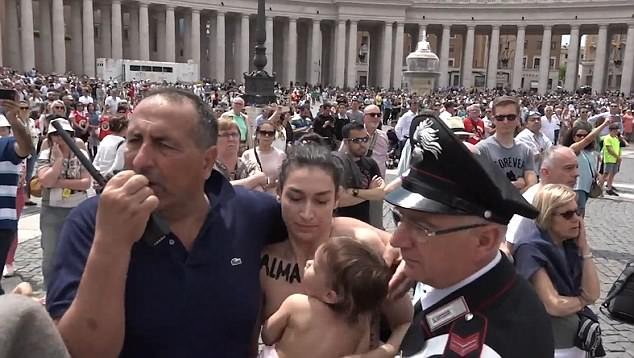 Meanwhile, the pope has encouraged breastfeeding, saying that mothers should be able to breastfeed their child, including in public places.
In January, the Pope Francis baptized an infant in the church in the celebration of Jesus' baptism.
The baptism lasted for more than two hours, and the pope encouraged mothers to "breastfeed your children if they are crying or are hungry."
"Breastfeeding is a language of love," he said. "Do not worry to breastfeed."
There are publicity and campaigns for breastfeeding rights around the world, but it is still difficult to breastfeed in public places.
What do you think of these protests? Share your thoughts in the comments below!
Recommended Video!
"This Is What Your Underwear Says About Your Personality"
Enjoyed the article? Check out another interesting story below ▼
---

Share this story with your friends and family!
---