Nothing can be more horrifying than a parent watching helplessly as one's children are involved in an accident.
This incident in a Chinese village was posted in the Chinese micro-blogging site Weibo and shows CCTV footage of two siblings getting buried under a huge pile of bricks.
The video starts with the two boys playing beside the two-meter-high brick pile. One of the children is sitting on a tire while the other is standing. The mother is nearby watching over them.
However, disaster strikes as the pile of bricks were apparently unstable and a few bricks start tumbling down. The mother quickly reacts to pull both boys to safety but it's too late and soon an avalanche of bricks buries both kids.
Video Credit: Asiawire
Subsequent footage shows other people in the area frantically digging through the rubble to get to the buried kids.
We can only imagine what was going through the mind of the mother while the rescue operation was underway. Luckily, the kids were soon found and, miraculously, they were alive!
However, both the children were severely injured and had to be brought to the hospital for treatment. Still, the mother must have heaved a sigh of relief because she still has her kids and their injuries will eventually heal (though we can imagine the long talk she's going to have with her husband later).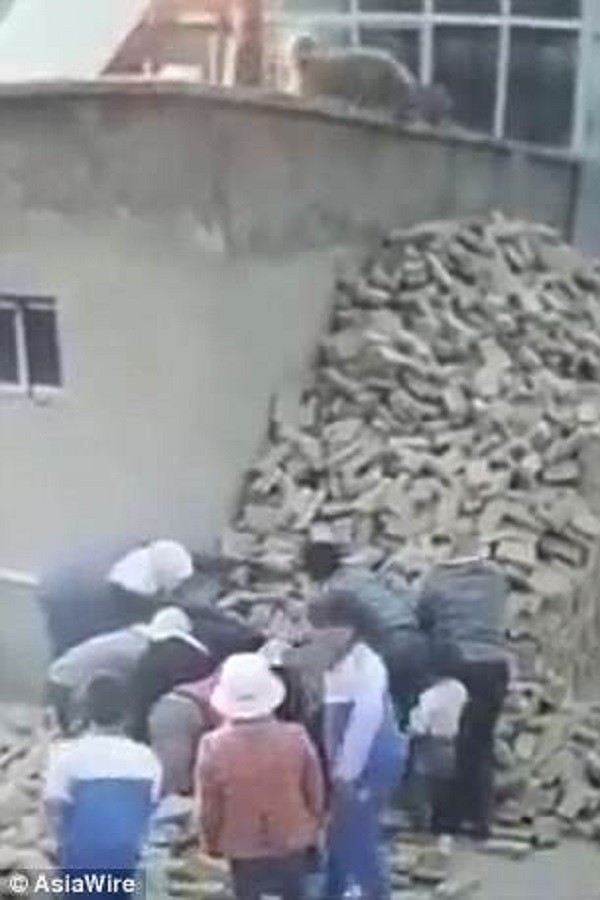 This story is a cautionary tale for all parents to always be careful about where they let their kids play.
Playing in an industrial area, as seems to be the case here, where stacks of raw materials can easily come crashing down, are an absolute no-no for kids. After all, there's a reason factory workers are encouraged to wear safety helmets and/or steel-tipped boots!
Parents can't always rely on luck to save their kids. That's why it's the responsibility of parents to think ahead on how to keep their kids safe from harm.
"Recommended Video – Grill Brush Dangers: 6-Year-Old Boy Almost Dies After Eating Burger With A Wire In It"
Enjoyed the article? Check out another interesting story below ▼
---

Share this story with your friends and family!
---