LIKE OUR PAGE

August 23, 2016, was such a fateful and sad day for the O'Keefe family. They lost someone that was so close to their hearts, Jeremiah Joseph "Jerry" O'Keefe III.
Jeremiah was an American World War II veteran and decorated fighter pilot ace. He was philanthropic, respected by his entire community, and beloved by his dear wife and 13 children. Unfortunately, he passed away on this fateful day at the age of 93.
While his funeral was emotional, heartfelt and attended by veterans, loved ones, and admirers alike, it was a simple act during the procession by a complete stranger that went viral.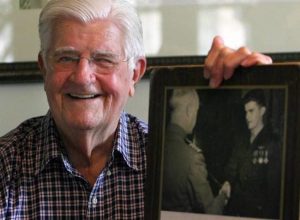 As the funeral procession found its way through the streets of Ocean Springs, Mississippi, the O'Keefe family looked out the window and noticed a little boy standing barefoot on the roadside, hand over his heart, in the pouring rain.
This little boy was none other than Kaiden Wade. He did not know Jerry O'Keefe in person but he knew of his legacy. He stood in the same position for over 30 minutes until the procession passed.
The deceased's family was so touched that they snapped a picture of him which they later shared on Facebook, asking if anyone could identify the little boy. This Facebook post went viral, wait until you see what happened next… Jeremiah was also a caring and loving philanthropist who served as a member of the Mississippi House of Representatives. From 1973 to 1981, he was the mayor of Biloxi, Mississippi.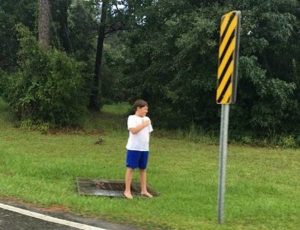 O'Keefe and his wife, Annette, had 13 children. According to Wikipedia, the O'Keefe family has a fondness for Southern cooking and storytelling which was the inspiration behind their publication of a family cookbook in 1994. Unfortunately, Annette passed away in 1998. O'Keefe eventually remarried another woman by the names of Martha. Jeremiah Joseph O'Keefe passed away on August 23, 2016, at the age of 93.
The O'Keefe family and community of Biloxi pulled out all the stops for the patriarch's funeral. They wanted their father, husband, colleague, and friend to have best send off as he went to meet his creator in heaven. So they did everything in their power to see to it that it the funeral was organized and to their expectation. There were veterans in uniform, bagpipes by his grave and many heartfelt eulogies.
Following the funeral, the family began the procession. As the procession, horse-drawn hearse and all made its way into Ocean Springs, Mississippi, the O'Keefe family were surprised and shocked to see a little boy on the side of the road. He was barefoot in the pouring rain, holding his hand over his heart, as a sign of paying his respect to the late veteran O'Keefe. This unnamed boy who had never met Jerry O'Keefe but knew who he was and how important he was to the community, courageously stood in the same position for over 30 minutes until the entire funeral procession passed. A member of the procession quickly snapped a photo of him.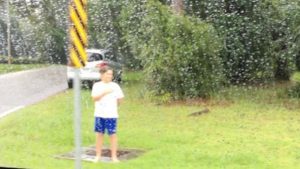 The O'Keefe family was touched by this boy's gesture that they shared the photo on Facebook, asking if anyone could identify him and the post immediately went viral.
The little boy was identified as 9-year-old Kaiden Wade. That day, Kaiden and his dad were visiting his sick grandmother. She mentioned to him that the funeral procession would be passing by her house, but not for a while. Without hesitation, Kaiden headed to the corner of the street and waited there for the funeral procession, despite the rain, despite his bare feet, he patiently waited. He was very determined to see the funeral procession of the late O'Keefe.
Cecilia, one of Jerry O'Keefe's daughters, says the image of Kaiden standing in the rain will forever be etched into her memory. She said that she saw her father in Kaiden. "This young fellow was the symbolism for the youth and vitality that was so present in my Dad," she said.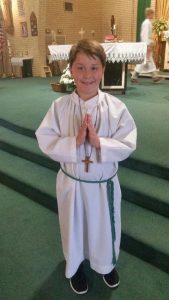 On your the other hand, Kaiden's mother, Amy, was not surprised by her son's gesture. She knows she raised him right, as a child who respects his elders. His loved ones to say he has always been an exceptionally kind hearted child who shows respect during the most significant and trying moments.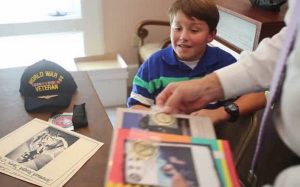 The O'Keefe family was awestruck by this little boy's actions. They reached out to Kaiden and invited him to the Bradford-O'Keefe Funeral Home. They wanted to thank him in person for his incredible act of kindness towards their late beloved father and husband Jerry O'Keefe. Kaiden got a chance to see the horse-drawn hearse that carried Jerry O'Keefe and was gifted with keepsakes of the late, great WWII veteran.
What an incredible story of kindness and legacy. Please SHARE it with your friends on Facebook!
Don't forget to ▼LIKE US▼ on Facebook for more stories!
LIKE OUR PAGE