The incident took place in Burger King Restaurant on 2nd October in Feltham, London, where the laughing yob just went straight and threw a soft drink on the mother and her son. The mother-child duo was traumatized with the incident.
The male just grabbed the drink from soft drink dispenser, and then he poured it on the head of the mother along with her young boy. Both were left soaked and shocked. The incident was viral on the Snapchat.
Scroll down to watch the video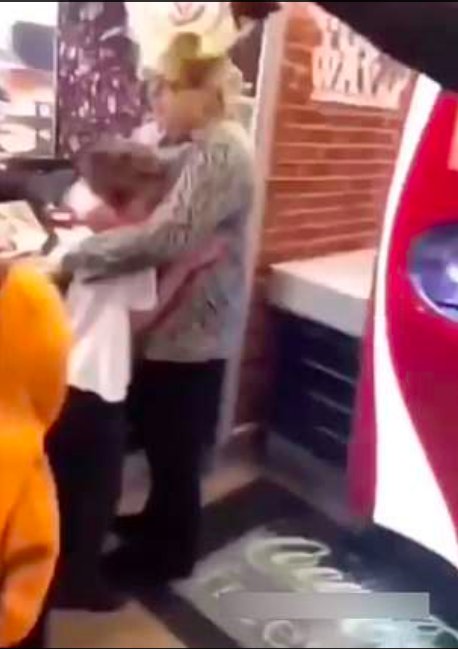 The boy was terribly shaken with the incident and also was feeling distressed. However, police were informed, they came to the Restaurant, but they did not do anything about the incident.
Video credit: News Dog Media
However, the short video clip was published on the Social media app Snapchat by @mobdoddy, which clearly shows how the thug just fills the cup with soft drink and pours the entire drink over the mother-child pair.
After this incident, the young boy was affected a lot and frightened such that he clutched his mom so tightly while sobbing. The mother though begged the thug for stopping his ill behavior, but the foolish thug just poured the entire yellow drink over the head of the woman and her son.
Thus, even after her begging, the thug continued his mischief, mother protected her son by keeping him close and tight enough while she was left completely drenched. Further, the person who was filming the entire incident was laughing and showed his face by turning the camera around. The mother then walked over to the culprit and assailant to confront, and her son was still weeping.
The Snapchat user, who filmed the entire incident was also laughing continuously with humor and making fun of the mother and her son. Just after the entire incident, the person who filmed the video, the Snapchat user proudly posed in front of the camera pointing out towards his assailant friend still laughing continuously. He then gloats delightfully towards the camera by pointing to his friend saying that this person went to that lady thrice and then said that about the assailant being a crazy guy.
If you liked this post, share it with your friends and family.
Recommended Video –"Clip Showing The Violent Process Of A Bishop Performing Baptism Has Gone Viral On Internet"
Don't forget to ▼LIKE US▼ for more inspirational stories:)
Enjoyed the article? Check out another interesting story below ▼
---

Share this story with your friends and family!
---