What better could a father ask for than having his son all to himself after seven years!
Netizens were left in tears of joy when they saw the video of Taylor McCauley, 27 returning home to see his dad on Father's Day.
Taylor is serving in the military in North Carolina and he conspired to surprise his dad with his younger brother Robee on his special day by paying him the visit of his lifetime. As Taylor's dad opened the door, he was all over the place, he started dancing in delight to see his son after 7 long years.
Scroll down to watch the video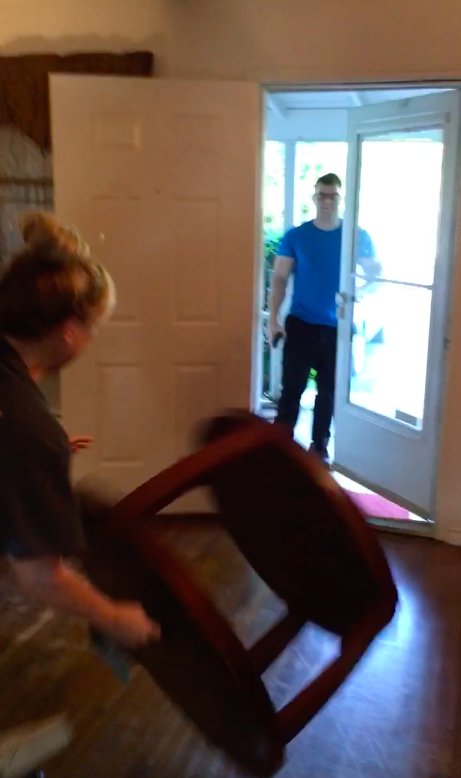 Taylor was is continuous touch with his parents over call before he surprised them so that he could make sure his surprise works well. He kept them under the impression that he was still in North Carolina. His younger brother Robee knew all about the surprise. While their dad was reading the card his son had given him, Taylor was awaiting him right at the door to make him the happiest dad on this planet.
The video, which was recorded by Robee, shows the family rejoicing with the presence of Taylor who is serving as a Rifleman with the Marines, overseas. Taylor drove 17 hours to be rewarded by these joyous moments with his family. Though Taylor used to visit his family a couple of times a year in the past 7 years, this Father's Day surprise was completely unexpected by his parents.
Watch the video below:
Video credit: Unilad
For those who are unaware of the aftermath of the video, Taylor said that he received an adorable heartfelt message from his dad after he was driving back home justifying the reaction of his father on his arrival.
For families whose members are in the military, it is always an unmatched emotion that overtakes them when they get to reunite even for a day. A surprise is a different level of happiness for them all together
If you liked this post, share it with your friends and family.
Recommended Video – "This Father Surprised Her Two-year-old Daughter Fighting With Leukemia And The Moment Will Melt Your Heart"
Don't forget to ▼LIKE US▼ for more inspirational stories:)
Enjoyed the article? Check out another interesting story below ▼
---

Share this story with your friends and family!
---