Do you ever feel like staying in your cozy bed and simply wait for winter to pass by? If yes, then perhaps you should be born as a bear!
While bears love to take long naps that can sometimes last as long as seven months and a half, many scientists claim they are not true hibernators. Instead of fully hibernating, they dive into a deep sleep, also known as torpor, which causes their breathing, metabolism, and heart rate to decrease. This way, they can go on without eating for months.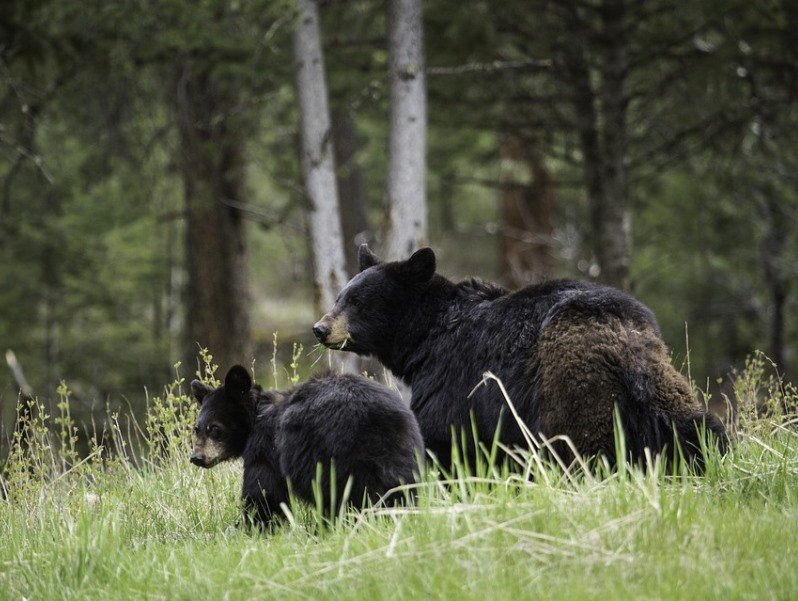 Pixabay
One black bear from Montana has recently captured the attention of media as it was slowly waking up from his long sleep. By saying slowly, we're talking weeks!
The bear has first been spotted on March 23 in Glacier National Park after rangers saw it sticking its head and paws out of the tree hollow. As they were interested in what he's going to do, the rangers have set up a camera to record his every action.

ntd.tv
While the bear has already been partially awake for days, it had little motivation to leave its safe haven.
Since March 23, the bear has made its way as far as to the branches of the tree but always quickly returned to its place of content.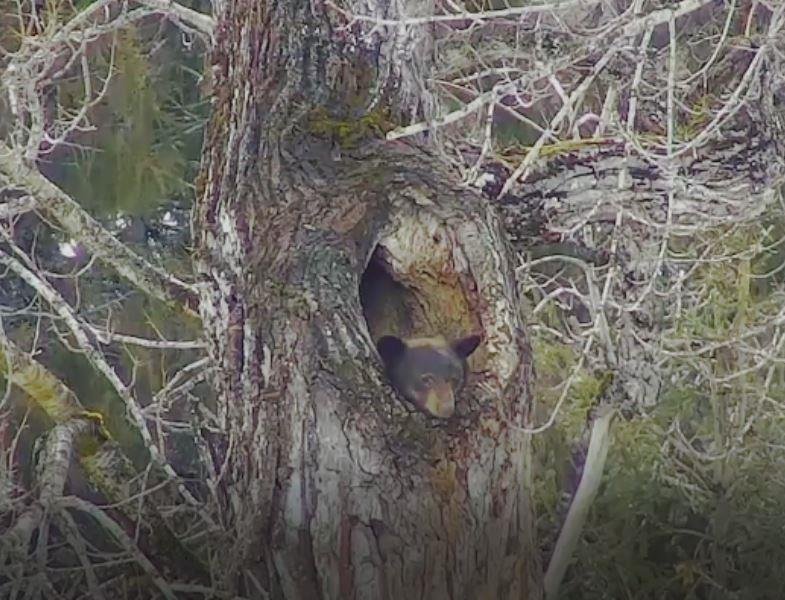 ntd.tv
Wildlife officials reported that they aren't sure whether the animal is a female or a male. They also explained that it could take several more weeks for it to wake up fully.
According to National Park Service, bears are able to avoid times of famine through hibernation. "When hibernating, a bear's body temperature remains above 88˚F (31°C), not much lower than their normal body temperature of 100˚F (37.7°C). This is unlike other hibernating mammals such as ground squirrels whose body temperature drops close to freezing," they stated.

ntd.tv
"A bear's heart and respiratory rates, however, drop dramatically. They average only 1 breath per minute with a heart rate of 8-10 beats per minute in hibernation. They still need to burn many calories per day while hibernating—sometimes more than 4000 calories per day. When they emerge from their dens in the spring, bears have lost up to 33% of their body weight. Lactating females can lose even more weight," they continued.
By stacking up on fat reserves during the summer, bears can manage without food for months during winter. Furthermore, they also don't require drinking, defecating, or urinating during their deep sleep.

ntd.tv
"Fat is metabolized to produce water and food, but instead of defecating or urinating to eliminate waste, bears recycle it. Their kidneys shut down almost completely and urea, a major component of urine, is recycled into proteins that maintain a bear's muscle mass and organ tissues. Without the ability to recycle urea, ammonia would build up to toxic levels and poison the animal," National Park Service mentioned.
"Since they are living off of their stored body fat, bears also have very high levels of cholesterol in their blood. Remarkably, healthy bears emerge from hibernation in the spring without losing muscle mass and bone density, or suffering from hardening of the arteries."
What do you think about this amazing natural process? Would you give hibernation a try if you could? Let us know by leaving a comment below and don't forget to SHARE the post!
Follow

@smalljoys_of_life
Enjoyed the article? Check out another interesting story below ▼
---

Share this story with your friends and family!
---