Chocolate mousse or cheesecake? Never an easy decision. If you're also having troubles picking just one of these yummy desserts, you'll be thrilled to know that you can merge them into one!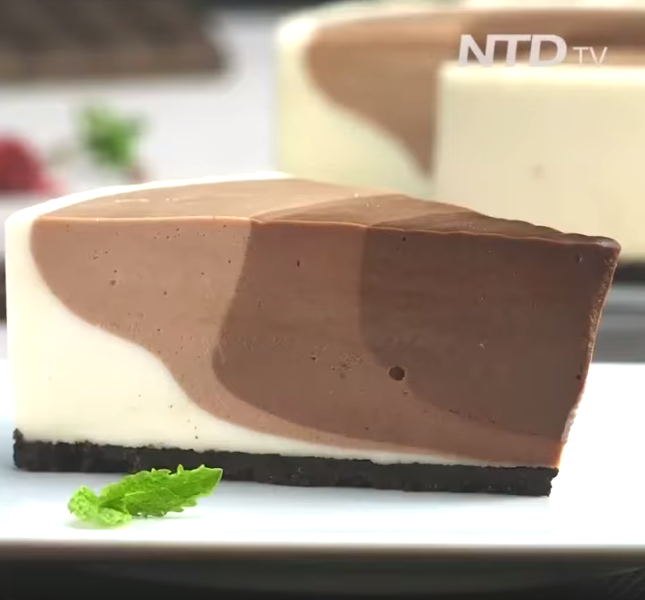 NTD Taste Life
To help you out with your hunt for the perfect dessert, here's the chocolate cheesecake mousse recipe that will leave you mouthwatering!
Ingredients:
– Unsalted melted butter (60 grams – 2 ounces)
– Oreo cookies (24)
– Cream cheese (16 ounces)
– Gelatin powder (35 grams – 1 ounce)
– Water (1 cup)
– Dark chocolate (2 cups)
– Heavy cream (4 cups)
– Sugar (2 ½ cups)
– Vanilla extract (1 teaspoon)
– Lemon juice (1 tablespoon)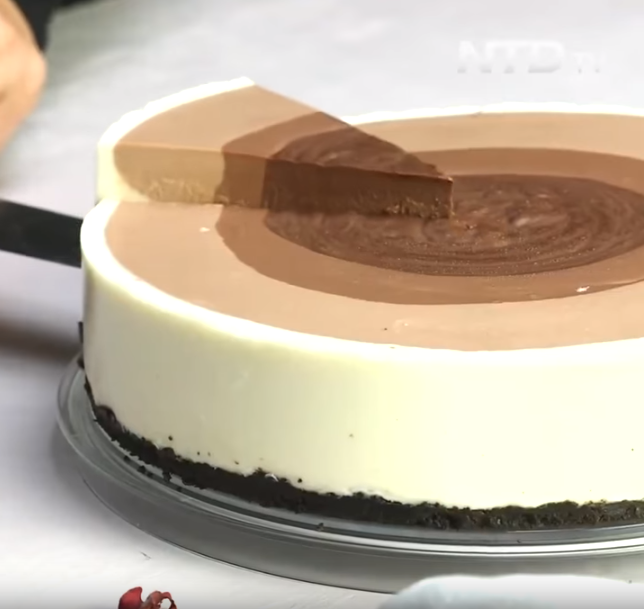 NTD Taste Life
Preparation:
Place Oreo cookies in a clean plastic bag and pound them until only fine crumbs are left.
Add melted butter to the cookies and mix well. Spread the batter in a 9-inch cake pan and gently press the mixture until it forms a firm and even base for the cake. Place it in the fridge and allow it to cool down.
Mix cream cheese and sugar in a large bowl until smooth.
In another bowl, mix water with gelatin powder, but use a dual layer over boiled water to dissolve the gelatin. Then, combine half of the heavy cream with gelatin water and whisk while adding lemon. Once the mixture is smooth, gradually add the remaining heavy cream and mix it with cream cheese.
Get another bowl and melt the dark chocolate over a dual layer boiled water.
Divide the cheesecake mixture into four bowls. In one bowl, use 3 cups of the batter, in one 2 cups, in one 2 ½ cups, and 1 cup in the last one. Add two tablespoons of melted chocolate into each bowl. This will result in each of the four batter mixtures having a different color.
Allow it to cool for a while at room temperature then take out the pan filled with cookies and butter and spread the batter with 3 cups of cheesecake mix in it. Proceed by adding the batter with 2 ½ cups of cheesecake mix and so on.
Cool the cake, preferably in the fridge, and serve it after it has hardened!
What do you think of this easy to bake dessert recipe? Share your thoughts on the comments below!
Recommended Video!
"5 Reasons Why You Should Go To Bed Naked"
Enjoyed the article? Check out another interesting story below ▼
---

Share this story with your friends and family!
---