Watch the video of the people who were so against the idea that they wrote a song to oppose it.
Video credit: The TY Bentli Show
ASOS has just unveiled crop tops and tube tops for men, and the internet isn't sure how to feel about it.
Men donning crop tops isn't a new thing as a great many celebrities have sported them at different points in time.
Who can forget Will Smith's sporty crop top in The Fresh Prince of Bel Air? And what about Johnny Depp's look in A Nightmare on Elm Street?
The trend almost got vanished during the early 2000's, but it got a new life when rapper Kid Cudi rocked a red crop top at Coachella in 2014.
Kid's daring fashion choice led to #croptopmovement and #Boysincroptops2014 hashtags.
all in favor of men wearing crop tops say "i" pic.twitter.com/wyqzUFBqGw

— Lily Sytsma 🍯 (@SytsmaLily) June 1, 2019
After that, it was, of course, Jonathan Van Ness from Queer Eye who paved the way for crop tops to become the next fashion trend.
And it seems ASOS has taken a cue from these celebs.
The fashion company is offering an extensive range of crop tops and tube tops for men in what could be the next big summer trend this year.
A pair of tops, in particular, caught the attention of the internet. And people sure had to say a lot about the pair from the Reclaimed Vintage collection.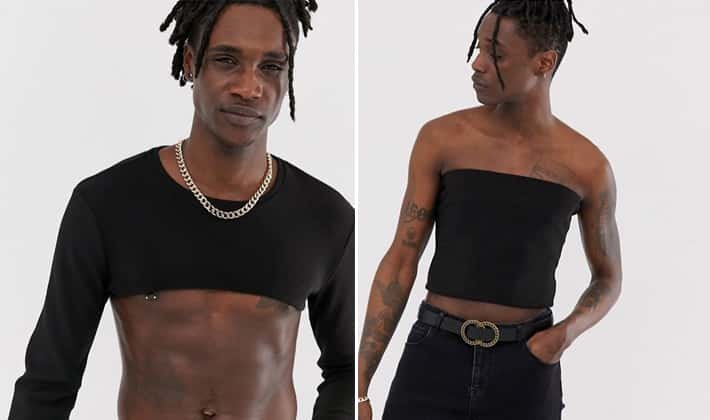 The two tops have divided the internet on the idea of men showing their midriffs after user @Mmmmmikeyarnold tweeted.
Captioning the image, the person wrote on the micro-blogging platform: "I give up."
User @c_tennille, who was also not convinced with the idea of men showing some skin, tweeted: "YALL MEN BET NOT START WEARING NO CROP TOPS."
Men should dress like men. Crop tops are a hard NO! https://t.co/kfsWQQSIPI

— Joey Nocolussione (@JoeyNoCollusion) May 31, 2019
@ASOS If I start seeing Men in crop tops this summer im done 😫😫😫🙈 pic.twitter.com/6Jm76j3hqP

— M O L L I E (@MollieDollx) May 25, 2019
Every time I have a gander on ASOS only thing that keeps getting shoved in my face is men's crop tops get them fucked off big time who's even buying shite like that

— Joe Key (@JoeKey97) May 31, 2019
@BMS_Billy @BMS_Show @BMS_Derek lmao weren't mens crop tops a 70s thing? Let's not go back to that 😂 pic.twitter.com/pHjv7wR96C

— TXLoneWolf (@wulf0089) May 31, 2019
On the contrary, a number of netizens came in support of the trend and supported their stance with the examples of popular celebs wearing crop tops.
Pro-male crop top Twitter user @kelian_s wrote: "I'm baffled by the ignorance of some comments… men used to wear crop tops in the '80s and it was totally ok back then but I see some of you tend to have a selective memory when it comes to remembering the past."
I think I speak for everyone when I say, bring back men wearing crop tops pic.twitter.com/nHmIWMnANX

— 𝚒𝚣𝚣𝚢 «𝚑𝚞𝚡 𝚏𝚞𝚌𝚔𝚎𝚛» (@rdjsdigbick) June 2, 2019
More men in crop tops pls pic.twitter.com/gueBmllfzF

— ʎɐɾ 🎈 (@goodnitencho) May 30, 2019
I really just wanna see more men in crop tops this summer tbh.

— Cat Francis (@mamacatfrancis) June 3, 2019
can men start wearing crop tops like

— catie (@cIandenstine) June 3, 2019
If more men could wear crop tops. They look hot. Thanks.

— mother of cats (@himynameisteph) May 31, 2019
the first time women wore pants it was a shock but now it's the norm. so why can't it be the same with men and dresses, skirts, crop tops, high heels, make up etc. #PrideMonth

— JIN JIN JIN JIN JIN JIN JIN JIN JIN JIN JIN JIN (@taebybaeby) June 2, 2019
Following the intense debate, ASOS took the moment to promote itself, quipping that it has been "proudly breaking down fashion norms since 2000."
Proudly breaking down fashion norms since 2000 💅💁‍♂️ pic.twitter.com/DvirkXEEod

— ASOS (@ASOS) May 31, 2019
Recommended Video!
"Hailey Baldwin attends PrettyLittleThing x Hailey Baldwin launch"