It can be difficult for us to stay positive and express our gratitude for life when faced with stressful situations on a daily basis. However, it is important to count the blessings that we have rather than pointing out what we don't have.
All too often, people get lost in negative thoughts which may, in combination with a modern lifestyle, cause us to forget what really matters in life.
To remind us of what we should focus on, Dr. Alastair McAlpine decided to do a little experiment.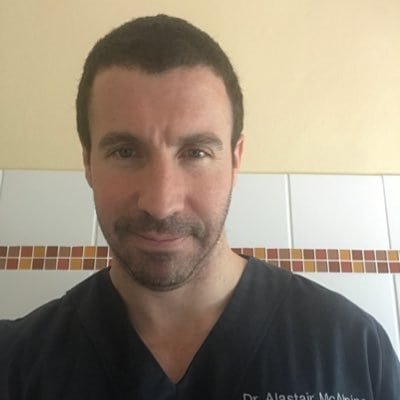 Twitter/Alastair McAlpine
Alastair is from Cape Town, South Africa, and works in a palliative care clinic where he takes care of terminally ill kids. While these children are already beyond saving, McAlpine does his best to make sure they get to feel as comfortable as possible before passing away.
After working with them for some time, he noticed these 4-year-olds to 9-year-olds display wisdom beyond the level of most adults. And so, he has become curious about what these children value the most in life.
For his personal assignment, Alastair decided to ask several kids what they thought matters the most in life. He also shared their astounding answers on Twitter.
First of all, the doctor pointed out what NONE of these kids mentioned.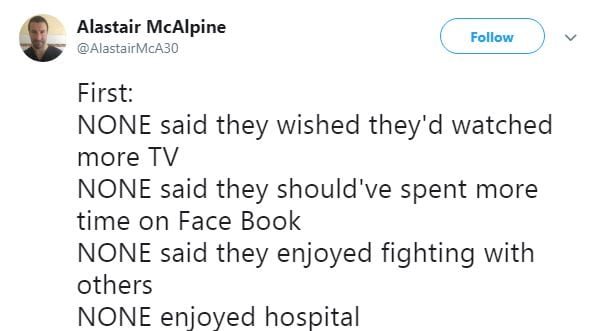 None of the children said they wanted to spend more time on Facebook, watch more TV, or fight with other people.
When digging deeper, Alastair discovered that most kids weren't even concerned about themselves. Instead, they expressed their love for their parents and mentioned they were worried about how they felt.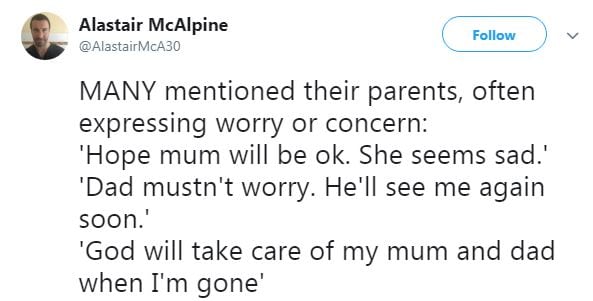 In addition, many of the kids talked about their pets and explained how small moments with them made them happy and content.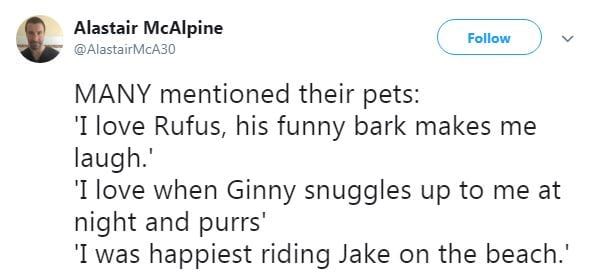 Furthermore, the children expressed they loved reading and listening to stories. They also pointed out that kindness is very important to them. "I like it when that kind nurse is here. She's gentle. And it hurts less," one of them said.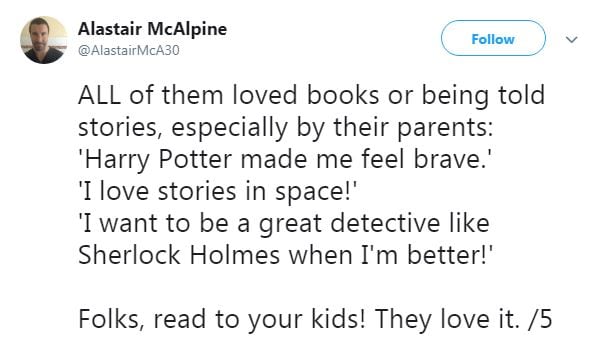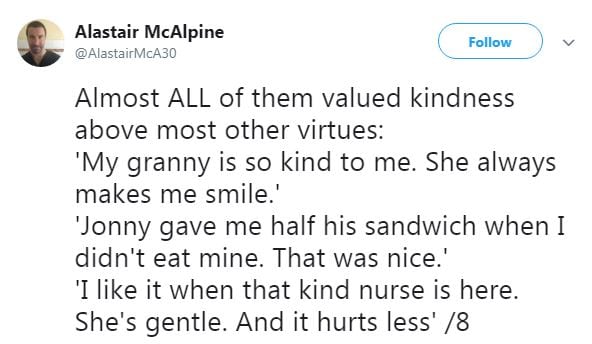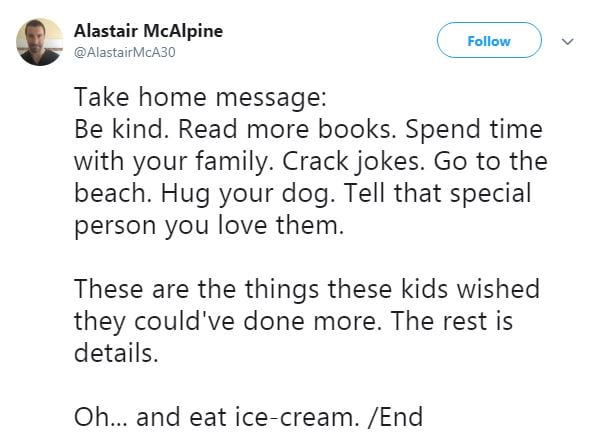 What are your thoughts on these children's answers? Do you agree with what they had to say? Let us know in the comments below and don't forget to SHARE this post with your loved ones!
Recommended Video!
"A Heart-touching Story Of A Baby With Down Syndrome Taking Her First Steps"
Follow

@smalljoys_of_life
Enjoyed the article? Check out another interesting story below ▼
---

Share this story with your friends and family!
---