LIKE OUR PAGE

Just when you think you have seen it all, the world surprises you with a copious serving of weird on a silver platter! Apparently now, we have a sport made straight out of our primal sexual desires and pervasion. 'Air sex' they call it.
To understand what this sport entails, just picture playing an air guitar and charades to the movie Nymphomaniacs. Except now the air guitar in this case is not an instrument. If you have, then welcome to Air sex championship.
The sex themed competition has become a sensation in the US. It's nine years strong and is the only sex miming road show in the country.
It has been described as a blend of art, sports and comedy where entrants take to the stage to act out sex moves. The competitors are sometimes fully clothed or partially undressed but no one is totally naked.
The official blurb in part reads…
"…Think Air Guitar, but instead of pretending to play boring old musical instruments, Air Sex participants have jaw-dropping sexual encounters with an invisible partner (or partners!) using nothing more than the art of pelvic storytelling and pure imagination."
It is however something you need to watch to experience. If you search for 'Air Sex championships', you will be treated to a series of clips that will leave you in stitches and astonishment in equal measure.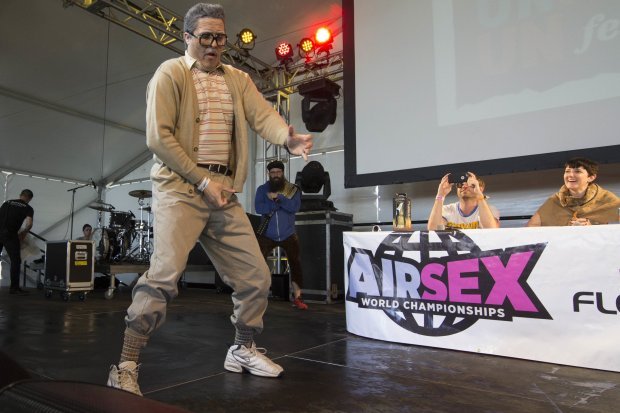 The sex themed championship is comedian Chris Trew's brainchild. He also happens to the Show's host. Chris said they started the show simply because they thought the world needed what he referred to as a "good, weird, competitive, sex themed comedy"
The show tours states in the US every year and they engage in events and festivities where they invite people from all walks of life, age and race to participate.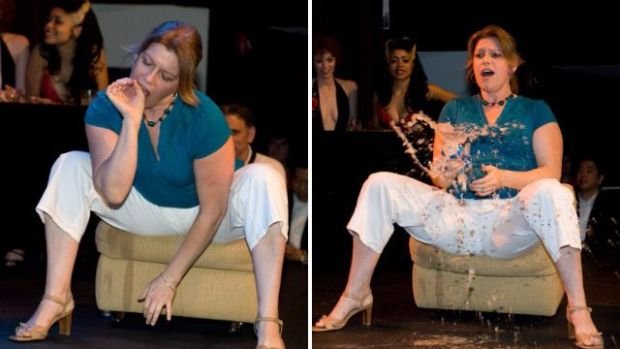 Of course like any other competition, there's usually a panel of judges to preside over the activities. Judges' line up has been known at some point or the other to include pro-wrestlers and porn stars as well!
Regional winners are chosen by the judges, who then later compete for the National title in December. The Championship have been such a huge success that a documentary styled feature film, Air Sex: The Movie has been produced.
It follows Chris Trew as he travels round the states documenting various ordinary people as they take on the Air sex challenge.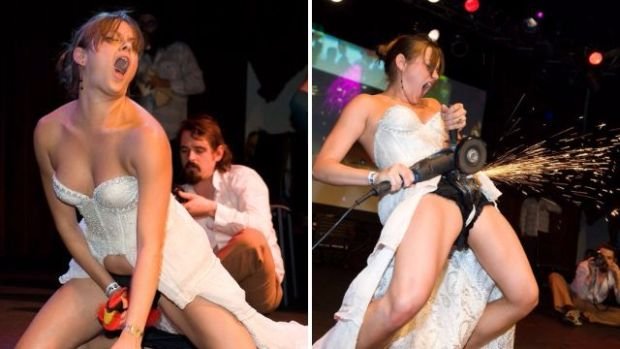 Chris says one of the memorable moments was when a mother and her son participated in the challenge and the mother ended up winning! Chris also added that in Orlando, they let one cab driver who stumbled on the stage accidentally, to try out and he surprised everyone when he won.
Air Sex championship also has its own set of rules.
Rule number one: You must simulate the climax or orgasm. You are free to go crazy by winding, grinding or whatever so long as you DON'T ejaculate for real on stage! (it's a safety and health precaution)
Rule number two: It's a solo act. Objects of one's lust must be invisible (real or imagined)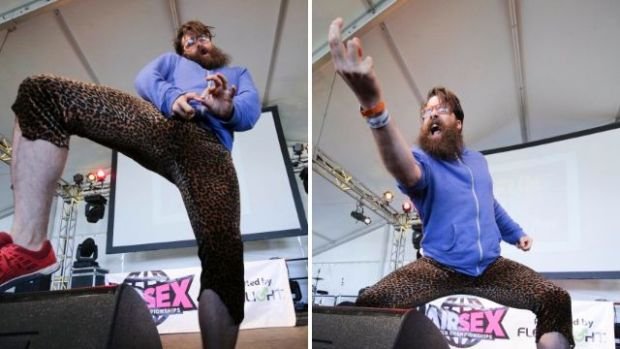 To understand what really goes down in the championship, I talked to a previous winner, Roxy Castillo. She took home the title during the 2015 Fun Fun Fest competition. She also went for the National title in 2016.
She gave me the low down on the championship and gave tips on how to become an air sex champion.
Roxy first found out about the air sex championship from colleagues at a theater where she does comedy. Since her friends were crazy enough to try this weird sport, she thought she would join in on the fun.
She said what really inspired her was the desire to step out of her comfort zone. Castillo said it was a difficult undertaking to show that side to people but once you decided to let go and have fun as you went along, then it was a fun memory worth keeping.
The act that won her the championship is as weird as they come. She was to portray an old woman who jerked off (for lack of a better word) men to collect semen that she used as a fountain of youth cream.
She would then pretend to rub it on and get younger and younger. She said she liked the concept and so she did it!
Roxy stated at first it she was nervous before going on stage. She said that there was a mammoth numbering in the thousands. And as much as the act was all in good fun, to her it still felt really dirty.
The thought of making sex faces and moves (that only a handful knew) to a crowd was nerve wracking. But once she got into character, everything else was pretty much a walk in a park!
She said, "When I won I was over the moon! It's cool being the best at having sex with nothing!"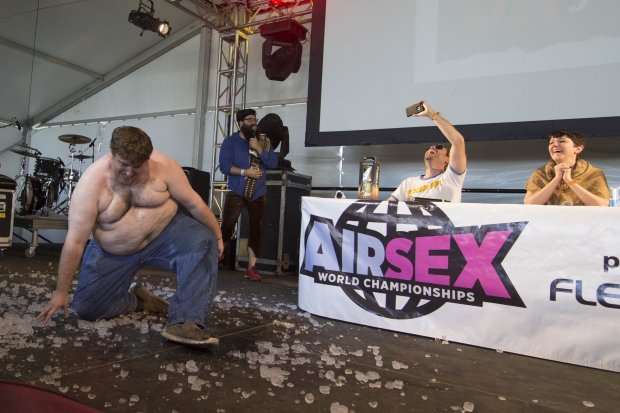 When I asked her if her life had in any way changed after bagging the win, she pointed out that the experience had made her more confident. If she was able to show her orgasm face in front of a crowd, then she could do just about anything!
I know after reading this, your curiosity has been sparked to learn more about this weird sport. You make it your homework to find out more about its original roots. You'll be surprised!
"Don't forget to LIKE US on Facebook!"
LIKE OUR PAGE