An abandoned vixen has become best friends with a family Labrador after 19-year-old Gemma Holdway took her under her wings and provided the fox with a warm home.
Just like in the Disney classic The Fox and The Hound, Vixey the vixen and Luna the Labrador have become inseparable.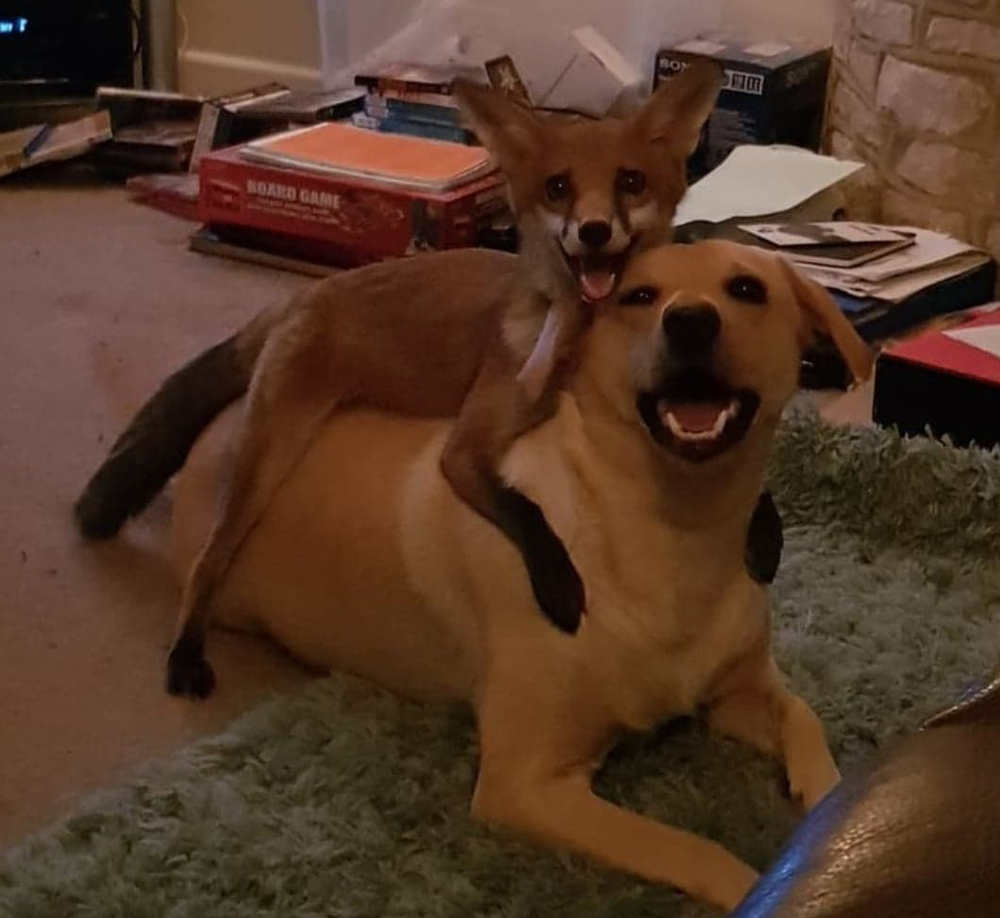 Everything started with Gemma and her boyfriend, Dan Pearse, discovering baby foxes snuggling into hay on their farm. After their mother failed to return, the couple grew concerned that no one would take care of the litter.
"We have CCTV, so we rewound it the next morning and watched it all back, to see if their mum came back – but she never did. We live near a busy road, so we were worried she might have been run over," Gemma said.
And so, the pair took the foxes in before handing them over to an animal hospital. One of the foxes, the runt of the litter, however, imprinted onto Gemma and Dan who then decided to adopt her.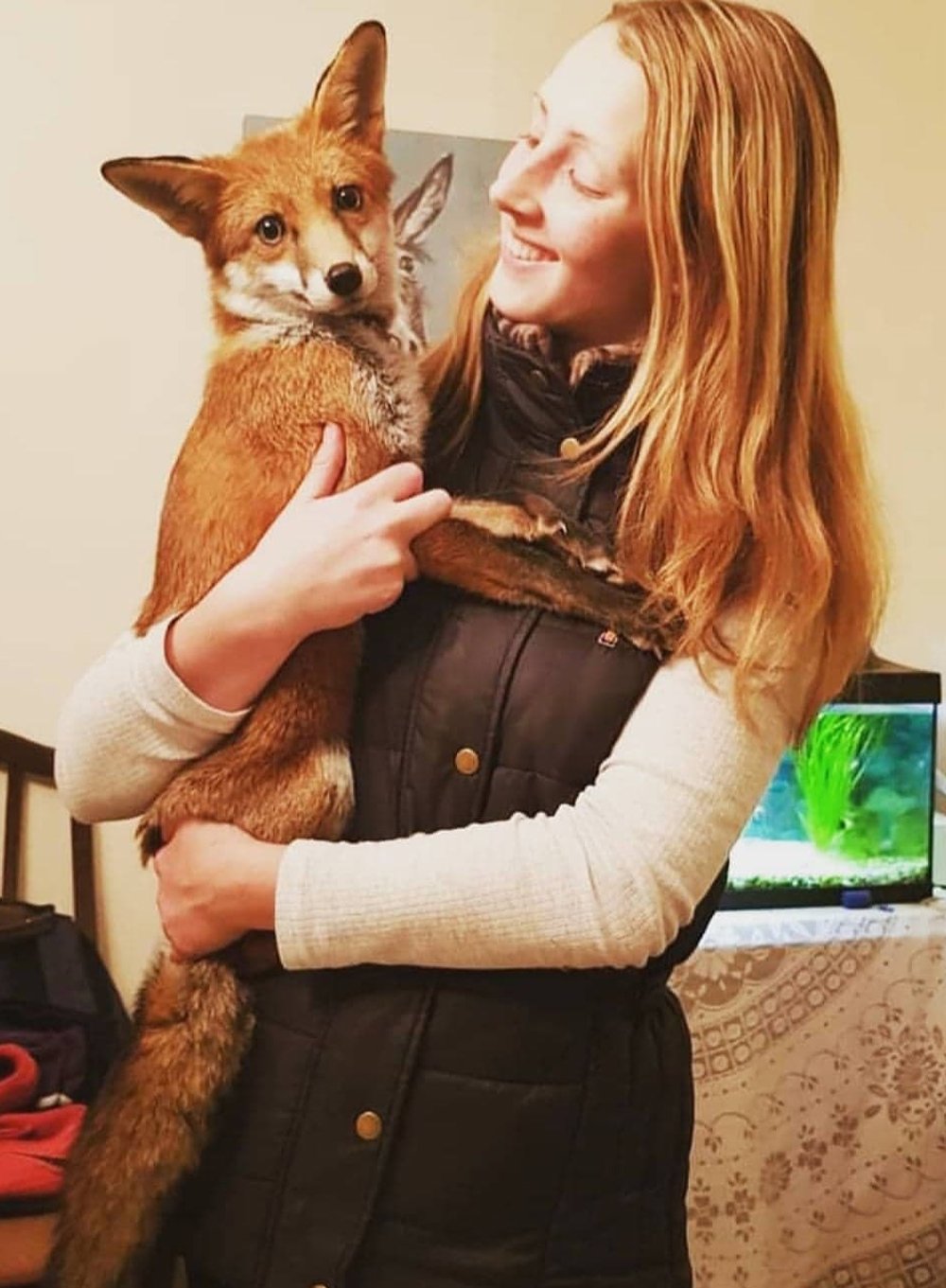 "Vixey is definitely a dog at heart," Gemma, who owns four dogs, said.
"I completely understand that she is still a wild animal, and is very independent – but I also know that now she has imprinted onto humans, she may end up being hurt if she went off on her own. Wild foxes would smell us on her, and see her as something to kill.
"We have acres of land she can run around, so she has a very nice, laid-back life and will go off exploring every day, before finding her way home before dark."
Speaking of the imprinting, which occurred when Vixey first opened her eyes when she was 4 days old, Gemma said:
"Foxes are shockers for imprinting. None of us realized at the time, as it happened so quickly, but once they open their eyes, that's it. Whoever they see first is mum. Three have now been released back into the wild and one is also domesticated like Vixey."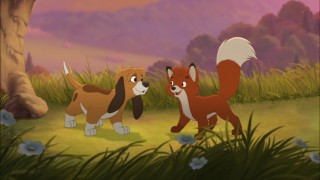 She also explained that she was worried about introducing the vixen to her four dogs at first.
"Luna, in particular, was very wary at first. She didn't quite know what Vixey was and was unsure when she'd try to play with her. Now they absolutely love each other. They're the very best of friends," Gemma added.
"Vixey follows the dogs everywhere, copying what they do. Raisin rules the roost, so has almost taken on the role of Vixey's mum.
"We're getting there with leadership training. She wears a collar and bell, which she's fine with – the bell, in particular, is a godsend, as she's so fast, that it helps us know where she is.
"But she hated having a lead clipped onto it. Right now, we're trying a ferret harness, as it's the only thing that fits her narrow body. Once she's trained, we'd love to take her out, but are wary about other dogs and people at the moment."
Respecting Vixey's wild nature, Gemma said that they allow the fox to roam freely around their farm which has been fox-proofed in order to prevent predators from coming in and Vixey from escaping and getting hurt.
"She always makes her way home before dark. She's very intelligent and can remember where she lives. She'll then come into sleep for the night. She either sleeps on my bed or under the sofa.
"She is also completely house-trained, and either go to the toilet outside, or in a litter tray. We have learned the hard way not to leave any shoes lying around though, as, for some reason, she sees them as toilets, so wees in them."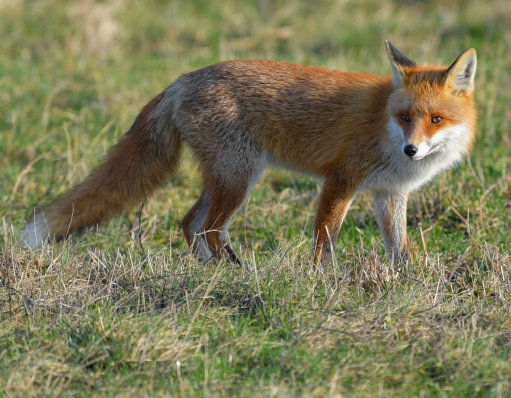 While the couple understands that plenty of people have negative views on keeping foxes as pets due to their wild nature, Gemma insists that Vixey is a gentle and caring animal.
"People can be wary of her when they meet her, but she is far more likely to run off and hide until she trusts someone than attack. She recognizes all of us, so will run to the door to greet us.
"Foxes only tend to bite when they feel threatened or are protecting their young, so if ever she seems in a strop and shows her teeth, we know to just leave her alone.
"We all adore Vixey, but not everybody has been nice about her. It would have been great to release her, but it was simply too dangerous. She has a lovely life with us and as long as she's under our roof, she's nobody else's business.
"We've fox-proofed the garden so she can't get out and attack anything, but she also has lots of lands to run around on. Anyone who meets her can see how happy she is."
What are your thoughts on this rescue story? Let us know in the comments and don't forget to SHARE this post on Facebook!
Recommended Video!
"Hero Dog Saves His Friend From Drowning In A Family Pool"
Enjoyed the article? Check out another interesting story below ▼
---

Share this story with your friends and family!
---