LIKE OUR PAGE

Keith Smith from Missouri was on his way to the coast of Maine to fulfill a mission. His original plan shows that his destination was the legendary lighthouse of Maine and in the company of his wife. Unfortunately, the plan had to change due to circumstances that he could not avoid.Keith tragically lost his wife, Kay, the previous year. That came as a shock to him as he never expected to lose his only partner who meant a lot to him. He felt so lonely and lost after missing the only love of his life. They planned to visit the Maine coast as a couple, giving each other the comfort and company that married people should enjoy. Now he has to do it alone. However, he was determined to complete the mission in the absence of his wife. He would do it ritually.

In an interview with WABI, Keith admitted that he loses himself in the absence of his wife, but their dream to visit the coast together gives him a bit of direction though. Kay died but left a living hope in her husband that he has to accomplish.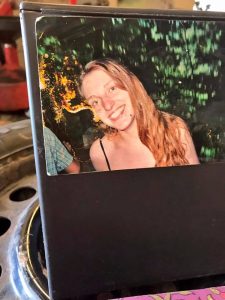 Though Kay wouldn't go on the mission physically, Keith decided to represent her in a rather an obscene way. He would bring along her ashes with him to coast and spread them on the coastal land just to show his passionate love to Kay. However, not all worked well for him. His journey was full of obstacles that almost killed his dream.
He ended up helpless in the central part of Maine with his car parked at Walmart parking lot. He felt like crying. With the two tires of his van flat and battery dead and no money in his possession, he had no way ahead. His car could not jump-start, and even if it would, could he drive a car on two flat tires? Keith had the darkest part of his journey at that point. I think he regretted having set off in the first place.
However, the sign at the back of his van played the biggest role in getting him rolling.
The sign reads "Flat tire + out of gas as a result of an anticipated repair. Peace be with you Maine; your beauty has prevailed."
The top and bottom of the sign also had a phrase written on it which reads: "Will Work!" A woman who happened to have passes nearby read the sign at the back of Smith's car and her conscience hit her. She knew straight away that she had a role to play, however insignificant it might seem.

She took a photograph of the sign and posted on her Facebook timeline, hoping to find someone graceful to help Smith. Her post reached Danielle Armour, who shared the photo and tagged the manager of McEwen's Auto by the name Devon McEwen.
Owing to the kind heart that Devon had, he decided to help Smith free of charge. Good news! He could have his van on the road again towards the Maine's coast. Smith had to get to the coast and completed the ritual so that his wife's soul could rest in peace. That was how he believed.
Devon gave him three new tires, filled his gas tank, charged his car battery, and added on top some money to cater for the rest of his journey. McEwen posted on Facebook highlighting everything, but of course in details. The local business owners who also heard Smith's story were moved and made contributions. Did his wife remembered him and made things work in his favor? Whatever the case, he was all set to accomplish the mission.
He drove off to the coast to complete the mission and do his wife that honorable thing, though with Kay physically missing to accompany him as was always his wish to walk side by side with Kay.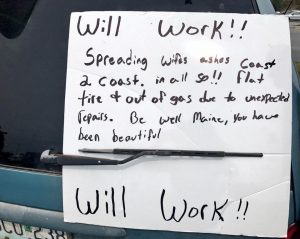 Smith's story reveals very many inspirational lessons. The love he had for his wife was one of a kind. The ability to adore his wife even after losing, he had to fulfill their dream. He did his best

Though Smith experienced many difficulties that would have made other ordinary people give up. He stood up. Luckily for him, he got many kind strangers who helped him on his mission. No matter what happens along your way, if you have a will, there will surely be a way. We should also be able to identify those who need our assistance and help them in whichever way possible. You can use anything in your possession to lend a helping hand.
Your comments are welcomed. Feel free to give your view on the section that follows. Also, don't forget to LIKE US ON FACEBOOK and kindly share with friends to inspire someone.
LIKE OUR PAGE