LIKE OUR PAGE

There is no any other occupation that demands a lot from workers than that of a law enforcement officers. They often endanger their lives just to execute their duties. They respond to some of the emergencies and ensure that the society is safe.
Most of the 911 calls involve dangerous actions. It is clear that no one would call a rescue squad's number to invite an officer to a dinner. The officers respond to emergencies to save precious lives. Be it an attack, accident, theft, emergency assistance or any other criminal act, an officer must respond to it.
One of the recent calls that an officer from NYPD received, which he had to respond to, involved a puppy. The shocked pup was found helpless on a rock in the middle of the East River. No one knows how the dog found himself in such a situation. Maybe the owner could have explained better.
The NYPD officer, Patrick Ruppert, responded to the situation as was expected of him. He went to the seen to help the dog have a second chance to live. He put on a scuba gear and dived into the cold waters of East River. The water currents were strong, but Ruppert was a good swimmer. He managed to reach the dog, which was a half dead and brought him back to safety.
Ruppert was in the company of other officers who recorded every action as they unfolded. Several photographs of Patrick captured for record-keeping purposes. However, some of which ended as Twitter posts. The whole ordeal was before the world to see the kind saving that Patrick performed professionally. It stirred up a mixed of reactions among people.
One photo revealed how the officer expertly reached for the terrified dog. Another photo captures him carrying the dog back to safety. It needed both expertise and courage to step into the cold water and partake what Patrick managed. Already we can see what the officers have to give away in their career. They must go an extra mile to save a life, even if it is a life of a pet like in this case. What then is the kind of training that an officer has to through to fit in lending a helping hand to an emergency? Let us keep that question for another day.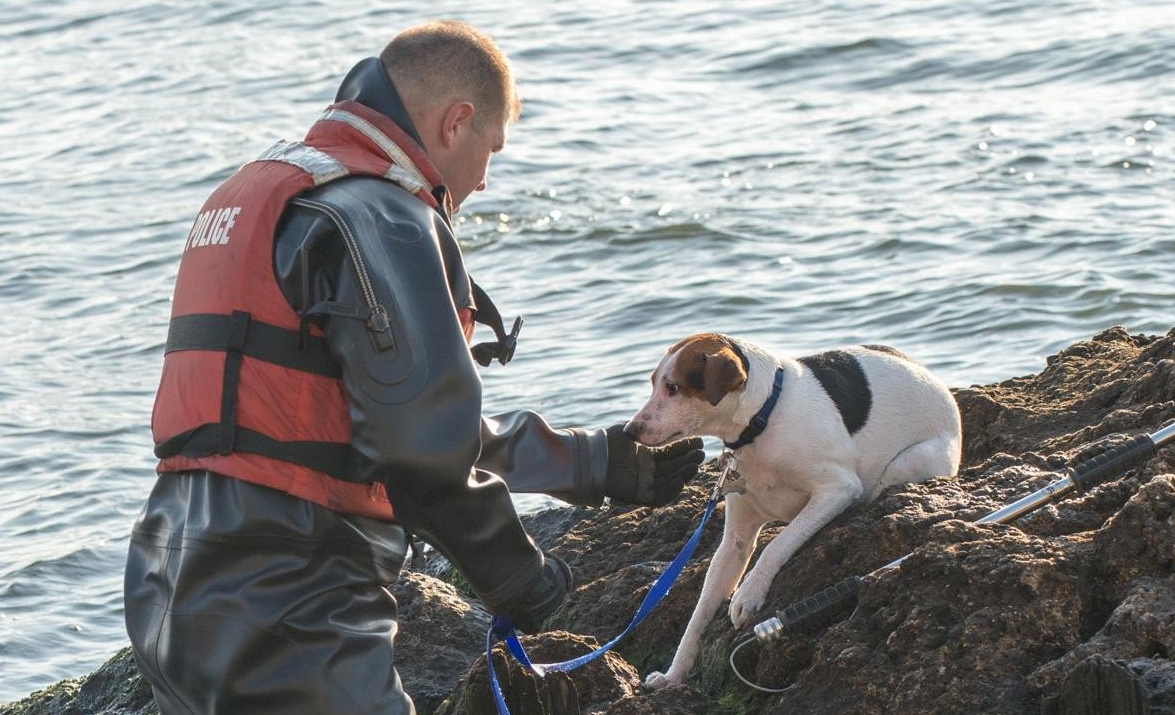 Cops realized the tag on the neck of the rescued puppy and quickly knew that he was called Rodgers, as was written on the label. Rodgers' neck also had a collar and a leash around it. The blue strap made Patrick and other officers conclude that the puppy must have rave ran off from the owner that morning.
Patrick and his colleagues never understood what made Rodgers separate from its keeper, who till then had not reported a lost dog. So the officers carried the dog with them. Maybe till the owner comes for it or if he or she fails to do so, keep Rodgers or hand it over to the relevant officers. His team's role ends at rescuing or reaching out to the helpless. After that, they allow relevant bodies to step in and do the necessary.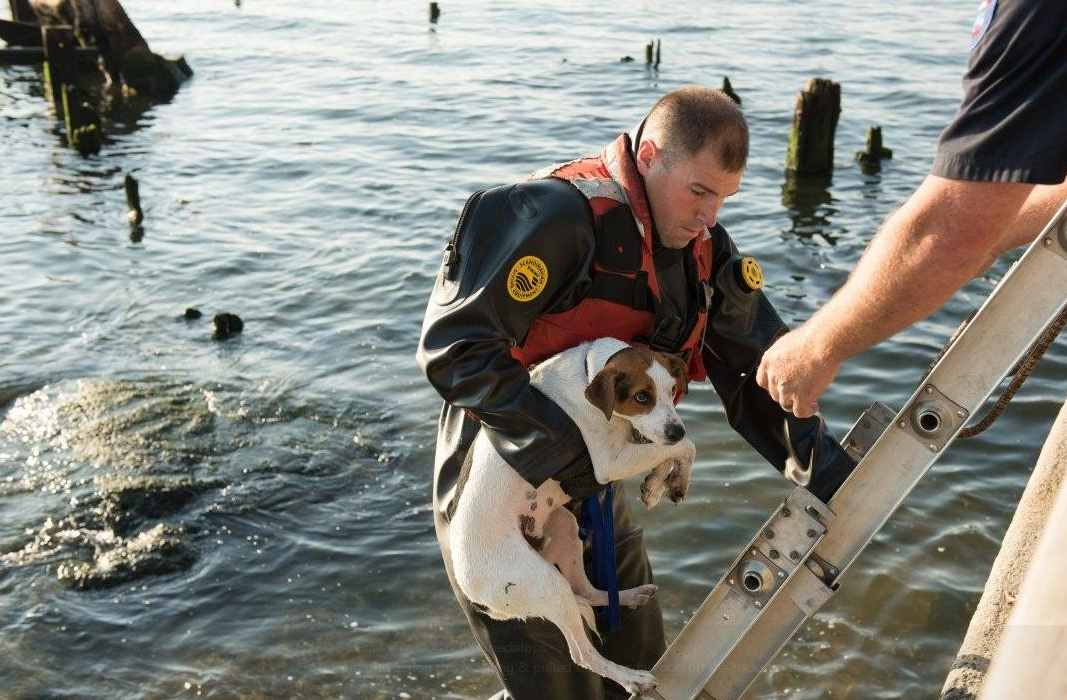 The heroic save of the dog by NYPD officer, Patrick, went viral on the internet. It reached many people who never hesitated to drop their comments in praise of him. All the Facebook users got energized, and at least they had something to discuss and reveal their thoughts.
Some comments flew in, just a few and we only have few samples. One of the users dropped a comment on a post made by the NY Daily News. Quoting his words: "Thanks a lot, Officer Patrick Ruppert, you are my hero." Another comment followed which was still in praise of NYPD officers for their excellent work. Indeed! A good job deserves appreciation.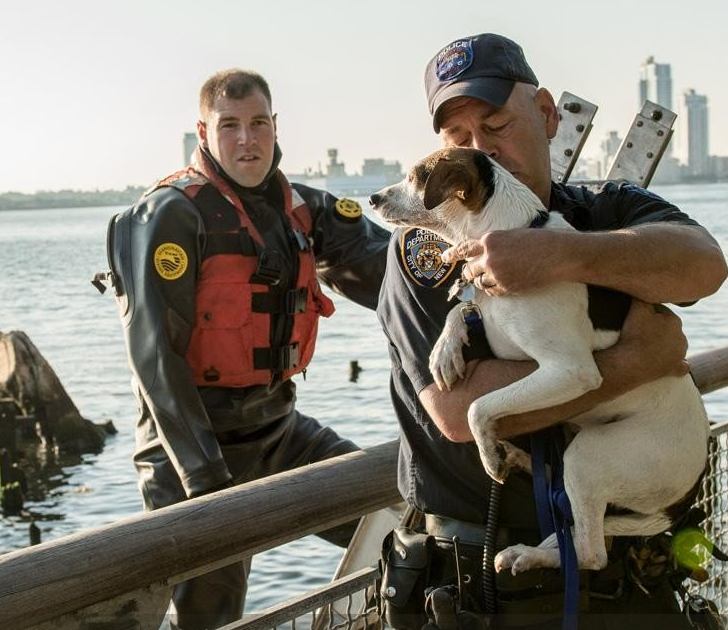 The story of the rescued dog reached Anthony Voss, who was supposedly the owner of the dog. He didn't leave anything for chance. He quickly dropped a comment and claimed his dog and to thank Patrick for saving the life of its dog though, and he never explained how his dog when missing.
Many appreciations followed the ordeal. The last 'thank you' that Patrick received came from Rodgers himself. He did that in a special way to thank his savior. Reliable sources have it that the floppy-eared puppy was witnessed giving doggie kisses to Patrick. Rodgers must have been very thankful, more than he could express. He was helpless, he had seen the end of his life, but Patrick gave him another chance to live.
Do we agree that officers like Patrick and any other emergency response squad do a lot for the safety of everyone in the society? Well, let us know from you by commenting on this post. Don't forget to LIKE US ON FACEBOOK as well.
LIKE OUR PAGE