LIKE OUR PAGE

Bess Kalb, the Emmy-nominated writer for Jimmy Kimmel Live, has definitely a knack for putting words together but she is not the only one in her family to be blessed with good creative writing skills.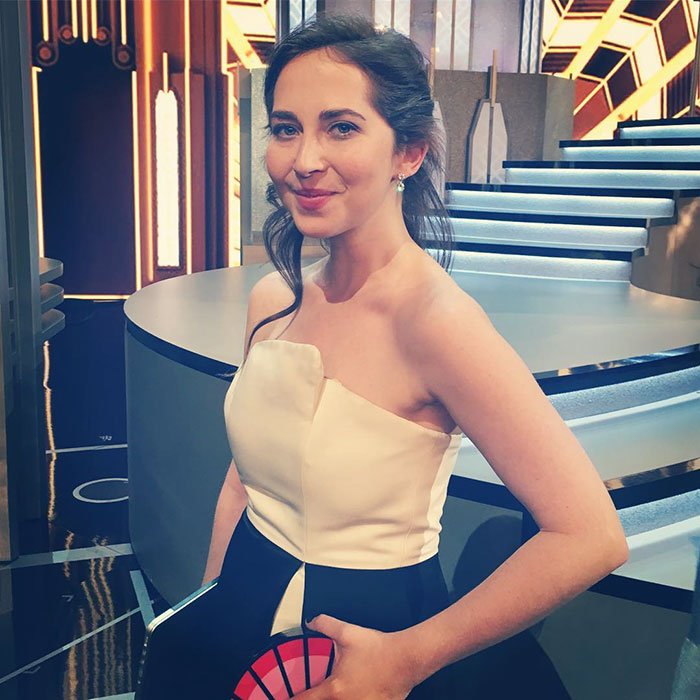 Recently, Kalb tweeted a hilarious series of captions written by her cousin's 9-year-old daughter for The New Yorker cartoons. "Everything is terrible but my cousin's 9-year old daughter Alice has been quietly and masterfully slaying the New Yorker's caption contest and it's pure delight," Kalb wrote.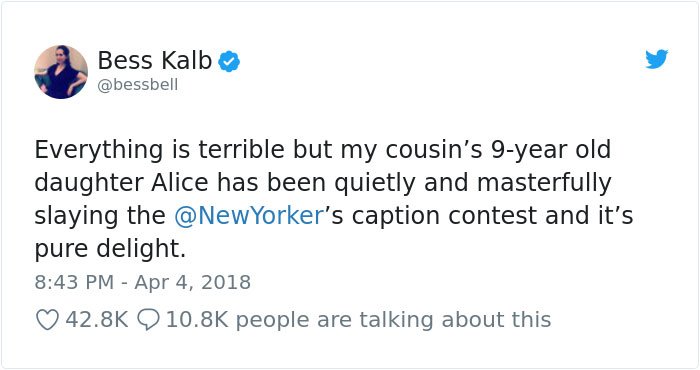 The magazine features a cartoon to be provided with a caption every week. The readers send their versions which are then evaluated by the magazine's editorial staff and three finalists are selected. The captions submitted by the finalists are shown on the magazine's website and people choose the winner by voting for the caption they like the most. Finally, the winner's name and his/her caption get printed in the magazine.
Everything looks pretty smooth except for one restriction. According to the rules, only those people can enter or vote in the competition who are more than 13 years of age. That means little Alice must wait for 4 long years before she can participate in the competition.
However, that does not stop the 9-year-old from perfecting her skills. "There are so many," Kalb added. "She grabs every issue before her mom can get a hold of it, and every single one of them is perfect."
Scroll down to read the funny captions!
The captions went viral as soon as they were shared with people across the globe applauding little Alice for her lovable and funny writing.
Kalb was overwhelmed by the enormous response she received. "Teachers don't always encourage creative writing, so today has been a huge shot of confidence for her. Let young girls know when they're funny and smart. Many people don't."
Recommended Video – Brazilian Prank Mirror – Reflectionless
Recommended Video – Little Girl Spices Up Boring Dance Recital
LIKE OUR PAGE